Do you know what Savings is?
If your online shopping is disrupted with coupons and a bar of deals labeled "brought by Savings" displayed on your screen, it is possible that Savings has infected your computer. According to our researchers, this is a Google Chrome browser extension that pretends to be a useful tool; however, it has been categorized as an adware application for good reasons. Unfortunately, you cannot trust the third-party advertisements and coupons this adware shows you because these are simply promotional ads and have not much to do with best available deals per se. But third parties should never be trusted if not reviewed or controlled by the creators of applications. Well, this ad-supported program is definitely not one that guarantees and takes full responsibility for its third parties and the content they may expose you to. It is possible that you click on an ad and land on an unreliable website or get introduced to more dangerous third-party ads. But this adware may not even be the only security issue on your computer. It seems that it may be distributed with other threats as well. All in all, we advise you to delete Savings as soon as you can because keeping it on board will definitely not end well for you.
You should not be influenced by the fact that this browser extension is available in the Chrome web store. You will find this adware at chrome.google.com/webstore/detail/savings/aldpopialdldchbabiieancndbimabed. You need to understand that there may be hundreds of potentially harmful extensions in that store until they are reported by users and reviewed by Chrome. It is quite strange that there is no screenshot attached to this extension, which may be the first thing you notice in relation to this application. It seems that over 103,000 unsuspecting users have already walked into this trap and have installed this extension. But let us tell you a very simple method how you can save yourself from this useless tool and the like. If you take the last part of the URL, that is the identification string for this particular extension given by Chrome, which is "aldpopialdldchbabiieancndbimabed." Google this code and you may find articles among the search results that may shed light on what this tool may be about. Namely, you may see links about removing Savings because it is an adware malware infection.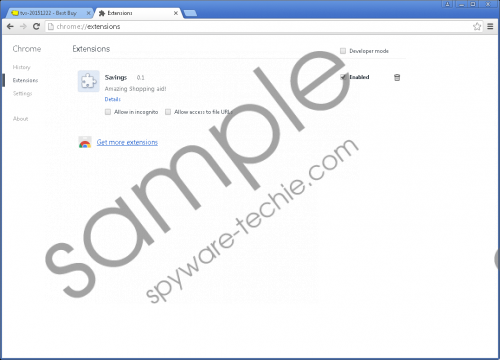 Savings screenshot
Scroll down for full removal instructions
This adware also has a promotional page, sav.space, which is rather simplistic and you cannot take it seriously. Our researchers have noticed that this page is totally identical to one that was used by another very similar adware called Dealnj. If you click on the large Download button, you will be redirected to the Chrome web store. However, if you wait about 5 seconds, the button turns into an even larger pseudo-dialog box displaying a misleading and fake message informing you that your "download is ready" in order to push you more to click on it. If you do, you will find yourself on a new tab page in the web store, while the previous page loads a third-party promotional page with this URL: tzarmedia.com/signup?ad_domain=ads.ad-center.com&ad_path=%2Fsmart_ad%2Fdisplay&prod=3&ref=5032467&seed=3349891421&sf=eone&utm_source=www.sav.space&utm_medium=referral&placement=www.sav.space&adserver=0.17.0-rc5&m=movies&sfv=3.
Obviously, this is not the only way this malware can sneak onto your computer. This adware can also be found in malicious bundles just like most of its peers. If you visit suspicious or unfamiliar websites, such as pornographic, freeware, and torrent sites, there is a good chance that you will click on content that you should not, and cause such bundles to download onto your computer. The best is to avoid such sites altogether and stick to reputable ones when it comes to downloading software. If you have encountered such websites lately, you should probably delete Savings and all other suspicious programs you may find on your PC.
This adware can gather data about you, which can be used for profiling to send tailored advertisements to your computer screen. This is what the Privacy Policy discloses about this: "… non-personally identifiable visitor information may be provided to other parties for marketing, advertising, or other uses." However, the problem with these targeted ads is that schemers can exploit them and use them as bait for you. It is pure psychology: You are more prone to click on ads that seem relevant to you. But this is exactly how you may be tricked and find yourself, for example, on a fake online shopping site where you might reveal your banking details to criminals. There are certainly a number of ways how criminals can take advantage of you once you land on their malicious pages. If you do not want to find out what might happen, we suggest that you remove Savings ASAP.
Luckily for you, it is not rocket science to kill this threat. It is enough to delete the extension through the Google Chrome settings. We have included the necessary steps below, should you have no idea how to do this. Do not forget that this only cleans Savings from your system; but, what about all the other potential malware threats? Do you want to go after them one by one manually? You can try by identifying these unwanted applications through your Control Panel and the extension lists in your browsers, and then, searching them in our search box at the top for removal instructions. But you may not find all of them or it could be impossible to remove them manually without leftovers. That is why we recommend that you use an up-to-date antimalware program that will tackle all your security-related issues with the single click of a button and protect you from future invasions.
Savings removal from your browser
Google Chrome
Tap Alt+F and open More Tools.
Access Extensions and locate the undesirable extension.
Click on the trash can on the right.
In the pop-up, click Remove.
In non-techie terms:
Savings is a useless and unreliable ad-supported application, even though it wants to pose as a useful Google Chrome browser extension that can save you money with its allegedly best deal offers and coupons. According to our researchers, the ads this adware may display could redirect you to potentially unreliable websites. It is also possible that this adware collects information about you that could be used to present you with customized ads, which can be very misleading if exploited by cyber criminals. Since this adware can be found bundled with other malicious installers, we advise you to eliminate all the threats you find on your computer after you remove Savings. If you are looking for an easy and comfortable way to do this, we suggest that you download and install a powerful malware removal tool.