Do you know what Savings Hunter is?
Savings Hunter is a browser add-on which, as the name of the program suggests, is aimed at helping you save money. The browser add-on displays coupons, special offers, and discounts on commercial websites, including eBay, Amazon, Target, Walmart, etc. Moreover, it displays randomly selected ads, which you can encounter on almost every website. In the case of the latter pop-ups, you are provided with web banners, in-line advertisements, interstitial ads, and pop-unders. These characteristics have determined the category of the program. As you may guess, Savings Hunter is categorized as adware, and it can be removed from the computer by powerful malware and spyware prevention tools.
Savings Hunter is developed by 215 Apps, also known as Engaging Apps or Enchanted Apps, which is well-know to security software experts. 215 Apps' browser add-ons include Savings Wizard, Sharp Savings, Coupon Champion, and many other three programs. Like SuperWeb adware programs, these programs are promoted on separate websites. As for Savings Hunter, it is available at savings-hunter.com and, similarly to the vast majority of adware programs, is distributed along with other browser add-ons, browser extensions, browser hijackers, video players, and other programs.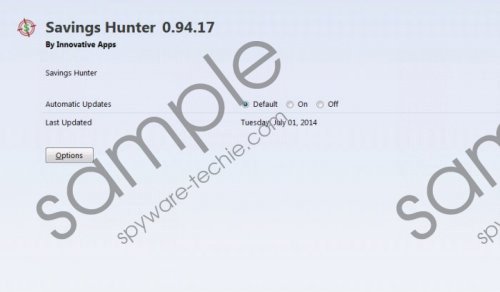 Savings Hunter screenshot
Scroll down for full removal instructions
It is highly important to pay attention to the installation process of any program because your carelessness can have some adverse consequences. Review the license agreement and the other information provided by the installation wizards so that you do not miss the chance to prevent unwanted programs. Some spyware and malware prevention program should also be present on the computer to prevent drive-by-downloads, which refer to instances when software is installed on the computer without the user's interference or knowledge.
The Savings Hunter adware program and third-parties also use tracking techniques to monitor your online behavior. The major interest of Savings Hunter is your search terms, clicks, impressions, browsing preferences, and some other information related to your browsing sessions. Information about is used to enhance the quality of the service and provide you with targeted ads, and, if you want to prevent a new avalanche of ads, remove Savings Hunter right now.
It is possible to uninstall the adware program but we recommend using a spyware removal tool. If you want to be safe on the Internet, implement SpyHunter, which can eliminate Savings Hunter and fight off Trojan horses, fake anti-virus programs, browser hijackers, and other malicious programs.
In case you are determined to remove Savings Hunter manually, use our removal guide but do not forget to scan the computer afterwards.
How to remove Savings Hunter
Windows XP
Open the Start menu and click Control Panel.
Click Uninstall a program.
Remove the adware program.
Windows 8
Move the mouse pointer to the bottom-left corner of the screen.
Right-click.
Select Control Panel.
Click Uninstall a program.
Remove Savings Hunter.
Windows Vista and Windows 7
Click Start.
Select Control Panel.
Click Uninstall a program.
Remove the adware program.
In non-techie terms:
Savings Hunter is a browser plug-in displaying advertisements, some of which may be related to dangerous websites. If you do not know how to download our recommended security program, use the below-given installation instructions.