Do you know what Savings Hero is?
Do not hesitate to remove an application known as Savings Hero if it is found up and running on your operating system. This is so because our research team has revealed that this program is nothing more than yet another adware program. In quite a few cases, it has been noticed that this ad-supported program is advertised as an excellent tool that should be used to improve your online shopping experience. It should provide you with various great discount deals and coupons; thus, helping you save time and money while you are shopping online. If you are a frequent shopper online, do not get fooled by these devious marketing strategies since in reality this adware will only disturb you while you are surfing the web. Avoid such intrusive activity by conducting a complete removal of Savings Hero; otherwise your online experience will be ruined.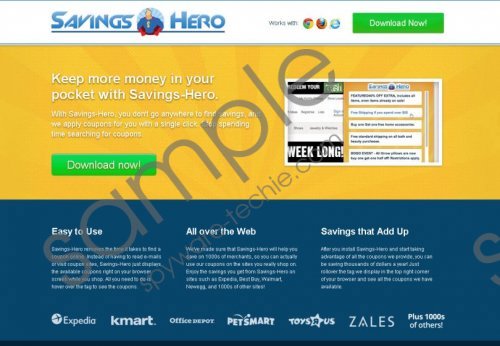 Savings Hero screenshot
Scroll down for full removal instructions
The functionality of Savings Hero does not differ all that much for other adware programs of today. As soon as this adware program enters your operating system it will implement your web browser with a malicious extension which will contact numerous adware servers that will provide third-party unwanted content. In most cases, the third-party content will manifest itself as banner ads and annoying pop-ups. All of the ads and pop-ups will flood you web browser; thus, making browsing the web the way you are used to virtually impossible since you will be forced to fight through those annoying ads and pop-ups every single time you browse the web. In most cases, all the unwanted web content will be presented to you in an entirely random way whether you like it or not. If you wish to restore the standard functionality of your web browser, you will need to execute a thorough removal of Savings Hero as soon as possible.
Numerous users report that they did not install this invasive application themselves; thus, it is quite natural to assume that it is distributed via software bundles. This is backed up by the fact that it is impossible to download it from its official website. If you are a security conscious user and wish to reduce the risk of getting your PC infected with Savings Hero in this way make sure to avoid various third-party download websites and websites associated with online piracy. This is so because it is known that such sites are the primary sourced of bundled installers. Additionally you are advised to install a professional malware detection and removal tool because such a tool is able to warn you about dubious installers beforehand at all times; therefore significantly reducing the risk of getting your PC infected with some unknown Internet-based infection.
Make sure to remove Savings Hero as soon as possible since annoyance is not the only feature that it poses. It has been found out that in quite a few cases this adware program could be used by other Internet-based infections as a security breach to enter your operating system in a quick and easy manner. Make sure to also conduct a thorough analysis of your PC for potential leftovers just to be sure that Savings Hero was removed entirely.
How to remove Savings Hero from your PC
Instructions for users of Windows Vista and Windows 7
Click the Windows button and then select Control Panel.
Click the Uninstall a program option.
Select Savings Hero and click Uninstall.
Instructions for users of Windows XP
Click Start and go to Control Panel.
Click Add or Remove Programs.
Select the unwanted application.
Click the Remove button.
Instructions for users of Windows 8
Move the mouse pointer to the lower-left corner of the screen.
Right-click and then select Control Panel.
Click Uninstall a program.
Right-click on an unwanted program.
Select the Uninstall option.
In non-techie terms:
Make sure to use the instructions provided below if you thing that you lack computer knowledge in order to perform manual removal. The removal guide below will help you delete this invasive adware application in an automatic way.