Do you know what Savifier is?
Savifier is a little nuisance that will turn your web browsing into hell by bombarding you with countless commercial advertisements. The program would want you to think that it can help you with online shopping by displaying countless discount and coupon offers, but these offers might as well pave the path to your demise. Please remove Savifier from your computer because you should not take any chances when it comes to potential security threats. If you think you need assistance with software removal, please do not hesitate to contact us by leaving a comment below this description.
Unlike most adware applications, Savifier does not install an extension on your default browser. When this program enters your computer, it functions via a system process called node.exe. If you happen to check your Windows Task Manager often, you may find this process in the list of the currently running processes. This is how you can find out whether you have this adware application on your computer.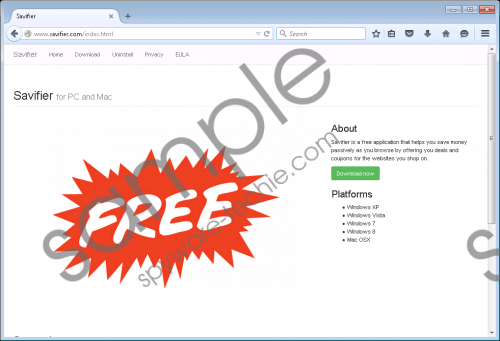 Savifier screenshot
Scroll down for full removal instructions
If you notice that you are seeing an increasing number of commercial advertisements and pop-ups on your browser, you may also want to check your Control Panel. Savifier comes with an entry in the list of installed programs, so you can always find out whether you have this unwanted program on-board.
Now, as far as the distribution of Savifier is concerned, the application may have more than just one way to enter your system. First, the official website is out of the question. When we first encountered this application, the homepage was still there at savifier.com and the download button functioned properly. However, it is now impossible to download the application directly because the website has been taken down. Therefore, Savifier clearly employs other means of distribution, and it is very likely that this program travels in software packages with other freeware applications.
Thus, when you decide to download a program from a file-sharing website, you have to remember that the third-party installer may contain several additional apps. It should be possible to deselect the unnecessary applications during the installation process, but the problem is that users seldom pay enough attention to the installation wizard. As a result, multiple unwanted programs manage to get installed on your system, and it is only a matter of time until they expose you to potentially harmful content.
Savifier itself may accidentally redirect you to dangerous websites. This adware program collects information on your browsing habits to customize the ads based on your likes and preferences. Supposedly, this should increase the possibility of your clicking the ads. Needless to say, you should not succumb to these tactics because you can never know where you will land if you click the Savifier ads.
Remove this application immediately by deleting it via Control Panel. If you think that there are many other unwanted applications on-board and you cannot get rid of them on your own, please consider acquiring a legitimate computer security application. Removing unwanted programs automatically with a computer security tool is the most efficient way to ensure your PC's safety, not to mention that you will no longer have to worry about similar threats in the future.
How to Remove Savifier
Windows 10, Windows 8.1 & Windows 8
Right-click the Windows icon and select Control Panel.
Go to Uninstall a program and remove Savifier.
Windows Vista & Windows 7
Open the Start menu and click Control Panel.
Go to Uninstall a program and remove Savifier.
Windows XP
Click the Start menu and go to Control Panel.
Open Add or remove programs and uninstall Savifier.
In non-techie terms:
Save yourself the trouble of dealing with annoying pop-up ads by removing Savifier today. This adware application must have entered your computer with a bunch of other undesirable programs. You need to make sure your computer is completely safe and clean, so do not hesitate to invest in an antispyware program if necessary. Also, you should stay away from unfamiliar websites that could be related to adware and freeware distribution. If you access a website and it greets you with pop-ups galore, you should close it at once.