Do you know what SaveTogo Ads are?
SaveTogo Ads are commercial pop-ups that may significantly slow down your web browsing process. The pop-ups appear on your computer, because you have SaveTogo adware application installed. You may not notice how or when this application enters your system, but the bottom line is that you must remove SaveTogo Ads as soon as possible, because adware applications often make computer systems vulnerable to outside threats. It is also very likely that SaveTogo is not the only potentially unwanted applications on your PC, so you should definitely run a full system scan with SpyHunter free scanner.
It is easy to see why one cannot trust SaveTogo Ads completely – the official homepage for the application is located at savetogo.info. However, despite the fact that the website promotes an application that can help you save money while you shop online, the direct download link for SaveTogo is not available at savetogo.com. It means that if SaveTogo Ads appear on your browser, you must have downloaded the application bundled with freeware from third party file hosting web pages. What is more, it is very likely that SaveTogo installation was silent and you have not been informed about it beforehand.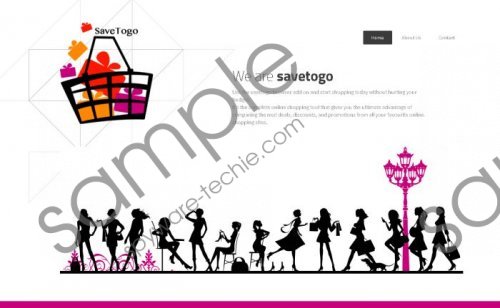 SaveTogo Ads screenshot
Scroll down for full removal instructions
Once the application is installed and launched, SaveTogo Ads appear because of the add-on added to your browser. SaveTogo is compatible with Mozilla Firefox, Google Chrome and Internet Explorer web browsers. While the application is running, it collects information on your web browsing habits, so that it could generate your online profile with your general likes and preferences. Later on, it displays coupons and shopping offers whenever you access a supported online shopping website. It says that "online shoppers can now compare between available deals and promotions with the new savetogo browser add-on. Now you can truly enjoy online shopping, totally worry-free".
Unfortunately, even if SaveTogo Ads could help you save money on your online purchases, we cannot be sure that the application provides you with a safe content only. Some of the pop-ups and shopping offers might be embedded with links that lead to other commercial websites, full of adware and other unwanted applications. You click SaveTogo Ads at your own risk, but if you are a security-minded computer user, you will understand that adware applications should not be allowed to remain on a computer.
Follow the manual removal instructions below to remove SaveTogo Ads for good. Afterwards, you should acquire a licensed antispyware tool that would ensure your system is safeguarded against any potential threats. Do all it takes to protect yourself and your system from cyber crooks.
How to remove SaveTogo Ads
Windows 8
Move mouse cursor to the bottom right of the screen.
Click Settings on Charm bar and go to Control panel.
Select Uninstall a program and remove SaveTogo.
Windows Vista & Windows 7
Click Start menu button and go to Control Panel.
Open Uninstall a program and remove SaveTogo.
Windows XP
Open Start menu and select Control Panel.
Go to Add or remove programs and uninstall SaveTogo.
In non-techie terms:
SaveTogo Ads are displayed by SaveTogo adware application. The application is a potentially unwanted program that can lead to serious computer security issues, so you need to remove SaveTogo Ads and all the other related adware applications from your PC immediately.