Do you know what Savesaler is?
Savesaler is an adware application that is rather generic. It has an official homepage that does not work, and it obviously gets distributed bundled with freeware. Users may not be aware of the fact that they have Savesaler on their computers until this application starts displaying annoying advertisements. It should be possible to remove Savesaler from your computer manually, but you should also consider investing in a powerful antispyware application that would help you safeguard your system from similar intruders in the future. After all, computer security should be your utmost priority.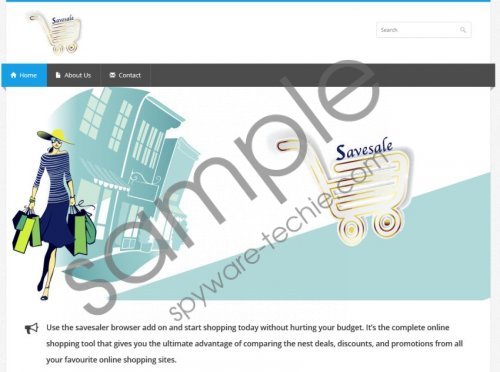 Savesaler screenshot
Scroll down for full removal instructions
The official website for Savesaler is located at savesaler.info. However, as it has been mentioned above, the direct download link at the website is unavailable. You might be told things like Savesaler is a "complete online shopping tool that gives you the ultimate advantage of comparing the best deals, discounts and promotions from all your favourite online shopping sites." Nevertheless, such claims are groundless because the only reason this program is there is to make easy money by redirecting you to affiliate websites. Such activity is not illegal as technically Savesaler is supposed to ask for your permission to access your browsing data during the installation.
Unfortunately, most of the time adware programs fail to decently notify users about the oncoming installation. It usually happens because Savesaler and other similar adware applications come bundled with freeware. It means that Savesaler enters your computer together with a list of other potentially unwanted programs. Users often install a number of unwanted applications when they download software from third-party file hosting or sharing websites. It also shows that users download Savesaler onto their computers willingly albeit unwittingly. Thus, if you wish to avoid installing potentially unwanted applications on your computer, you need to download software from official websites only.
Once Savesaler gets installed on your PC, this adware application will start collecting information on your web browsing habits. This data is necessary for the program because it needs to generate a custom flow of commercial advertisements. Savesaler will display coupons, comparison deals and various discounts on online shopping websites. At first glance, it might seem that the application is trying to help you purchase your favorite goods at the lowest price possible, but commercial ads by adware applications can never be trusted.
Savesaler does not review the third-party content displayed on its ads, so it is possible for cybercriminals to embed their own content into the ads. This app could be exploited for corrupted content promotion; hence, you have to remove Savesaler ASAP, to avoid any potential system security threats.
How to remove Savesaler
Windows 8
Move mouse cursor to the bottom right of the screen.
Click Settings on Charm bar and go to Control Panel.
Select Uninstall a program and remove Savesaler.
Windows Vista & Windows 7
Click Start menu and select Control Panel.
Open Uninstall a program and remove Savesaler.
Windows XP
Open Start menu and navigate to Control Panel.
Select Add or remove programs and uninstall Savesaler.
In non-techie terms:
Savesaler is a potentially unwanted application that dampers with your web browsing experience and exposes you to various threats. Manual removal may not delete all the Savesaler files, so please invest in a powerful antispyware application, or refer to the other set of instructions below the description.