Do you know what SaverPro is?
SaverPro is a free ad-supported browser add-on which delivers web banners, coupons, pop-ups, and interstitial advertisements to your Internet browsers, including Internet Explorer, Google Chrome, and Mozilla Firefox. As regards Google Chrome, in order for the browser add-on to start working on this browser, you have to activate the program manually. SaverPro is accessible on the official website saverpro.info and is known to be bundled with freeware, including fake Java updates and other browser add-ons. It is highly advisable to read the license agreement and privacy statement before installing the program; moreover, you should review information regarding option programs and decline the installation of unknown programs.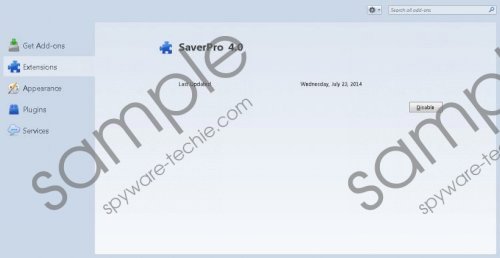 SaverPro screenshot
Scroll down for full removal instructions
Due to the fact that SaverPro is programmed to display third-party advertisements, we have categorized it as adware and recommend that you remove this program from the computer as soon as you can.
SaverPro is a JustPlug.it browser extension and is capable of randomizing its name. For example, instead of the name SaverPro, you may find that the browser is given as SaVerProo.
SaverPro is supposed to provide you with the best sales and prices; however, you should bear in mind that the developers of the program are not liable for the offers that you are provided with. SaverPro is sponsored by third-parties, and SaverPro does not endorse those third-parties by displaying their advertisements. Your correspondence with third-party vendors is your own responsibility, which is why you should be very careful when dealing with adware programs and their pop-ups.
Moreover, it is important to note that by installing SaverPro on your computer, you enable SaverPro to monitor your online actions. The developers of SaverPro are interested in the settings of your browsers, your clicks, impressions, browsing history, and some other information stored on the browser. Some tracking techniques, including browser cookies, may be used to monitor your browsing behavior. The installation of SaverPro may also result in some alterations to your browser extensions and themes. In order to stop the adware from monitoring you, you should remove it from the computer and shield the system from unreliable programs.
Below you will find our step-by-step instructions on how to uninstall SaverPro; however, we recommend using SpyHunter because this computer security program can remove SaverPro in no time and easily fight off Trojan horses, ransomware infections, browser hijackers, and many other malicious programs. The sooner you implement the recommended program, the sooner you can prevent targeted advertisements and other unwanted consequences, so do not wait but take action right now.
How to remove SaverPro
Windows Vista and Windows 7
Click Start.
Select Control Panel.
Click Uninstall a program.
Remove SaverPro.
Windows XP
Open the Start menu.
Click Control Panel.
Select Add or Remove Programs.
Uninstall the adware program.
Windows 8
Move the mouse to the lower-left corner of the screen.
Right-click.
Select Control Panel and click Uninstall a program.
Remove SaverPro.
In non-techie terms:
Having removed SaverPro from the computer, you should install a powerful scanner so that you can ascertain whether all the files associated with SaverPro are deleted. If not, invest in the program to have them removed. As mentioned above, we recommend using SpyHunter, and, if you want to install this security program, use the below given instructions.