Do you know what SaverON is?
SaverON is a justplugit browser extension which may be distributed using InstallRex, and sometimes Amonetize or Vittalia installers. These installers often hide behind misleading offers, such as bogus software installers or updates. You also should not trust them if you do not want additional malware installed alongside the suspicious advertisement-supported program. Unfortunately, this is highly possible, in which case you may need to delete SaverON and then remove other unreliable software. Even though the removal of adware may seem simple, researchers analyzing this software warn that this is not a guarantee in all cases. In fact, many remove adware thinking they have succeeded; however, adware components remain active.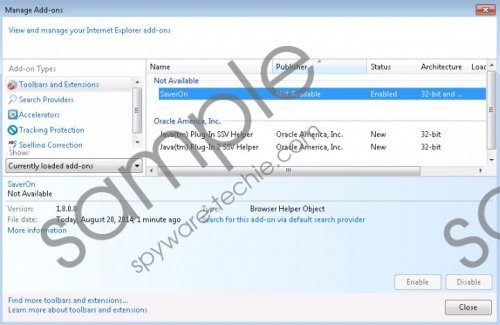 SaverON screenshot
Scroll down for full removal instructions
If SaverON removal is not performed successfully, various questionable banner/pop-up or any other type of advertisements are likely to show up. These ads may hide links to third-party search engines, shopping sites, download and purchase pages, or they can present installers, surveys, prize giveaways, and random offers. The possibilities are endless because they depend on the third parties associated to the online advertising. In fact, you should remove SaverON just because the affiliated parties are difficult to identify meaning that their services are also questionable. Even though it is difficult to say how big the risks are, you certainly should expect some of the presented ads to be unreliable. Unfortunately, this is how KingCoupon, ExstraCoupon, RightCoupon, and other unreliable programs are operated as well.
If SaverON is running on the operating system, you need to figure out how you want to delete it. The most popular options are the manual and the automatic removal. It is clear now that the manual SaverON removal is not always straightforward. If you are not sure whether you can delete leftover adware files or the additionally installed infections, you should choose the automatic removal option. All you have to do is install a reliable security tool which will delete the existing threats automatically. Needless to say, this software will also help prevent other malware from entering the operating system in the future.
Delete SaverON from Windows
Delete from Windows XP:
Navigate to the Task Bar at the bottom of the screen and click the Start icon on the left.
When the user menu pops up, select Control Panel and double-click Add or Remove Programs.
Click the undesirable program you wish to get rid of and then choose Remove.
Delete from Windows Vista & Windows 7:
Click the Start/Windows icon on the left of the Task Bar and select Control Panel.
In the menu select Uninstall a program and right-click the one you wish to remove from the PC.
Finally select the Uninstall option to eliminate undesirable software.
Delete from Windows 8:
Right-click on the Metro UI menu for a new pane to show up and select All apps.
Open the Control Panel to access a menu with more options and then click Uninstall a program.
Find the application you wish to remove, right-click it and select Uninstall.
In non-techie terms:
You should remove SaverON from Google Chrome, Internet Explorer and Firefox browsers because even though the application does not look dangerous, it certainly could bring some risks. For example, it could showcase advertisements representing fictitious, unreliable offers and installers. To disable the potentially misleading ads, you have to delete SaverON, and automatic malware removal software is best for this operation. If you are having difficulties with the installation of reliable security software, follow the guides below.