Do you know what SaverExxtensIon is?
Do not think that SaverExxtensIon will help you find the best savings deals. This is an advertisement-supported program that will track your virtual activity to learn what you are interested in and then will introduce you to possibly misleadingly attractive offers. The annoying program may use your browsing history to determine which adverts you are more likely to click on. If you click on ads, the developers of the suspicious ad-supported program will earn money. We believe that you should delete SaverExxtensIon simply because the application is not beneficial. Despite its promises to assist you when shopping online, the program will expose your virtual security to different threats, and this is why you should delete the app.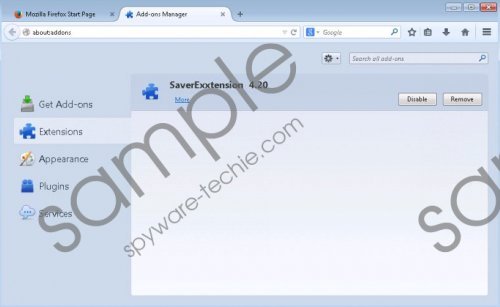 SaverExxtensIon screenshot
Scroll down for full removal instructions
SaverExxtensIon is the clone of Daring Deals, AppEnable, LuckyCoupon, SaveNShop, and tons of other applications built using the Justplugit engine. Most of these applications are very difficult to delete, because they can be introduced with different name variations. For example, you may be confused about the removal of SaverExxtensIon if the program is installed as SavEErExxtensioonn or SavaerExtension. Of course, not many computer users would be fooled by this trick; however, outdated malware removal software could be fooled. Needless to say, this is a sign that you are not running reliable security software, or this software has not been updated in some time. If this software was active, it would remove SaverExxtensIon and other infections that may travel packaged with this adware. If reliable security tools are not installed to guard you, these infections could slither in and run without any notice.
SaverExxtensIon can be deleted via the control panel, and the instructions below will help you with this removal operation. Unfortunately, not all computer users will be able to delete SaverExxtensIon-related threats manually as well. Have you evaluated your own knowledge and skills, and determined that you will not be able to remove all running threats manually? If you are not, you should think no further and install legitimate malware removal software that will delete SaverExxtensIon and related threats automatically.
Delete SaverExxtensIon from the PC
Delete from Windows 8:
Right-click on the Metro UI screen and select All apps.
Open the Control Panel and click Uninstall a program to find SaverExxtensIon.
Right-click the application that you wish to remove and click Uninstall.
Delete from Windows Vista or Windows 7:
Open the Start menu from the Task Bar and click Control Panel.
Select Uninstall a program and right-click the application you want to remove.
Click Uninstall to get rid of the undesirable application.
Delete from Windows XP:
Click the Start icon placed on the left of the Task Bar at the bottom of the screen.
Open the Control Panel and double-click Add or Remove Programs.
Remove the undesirable application from the Change or Remove Programs menu.
In non-techie terms:
SaverExxtensIon may seem like a legitimate browser extension; however, it is just an advertisement-supported program that you should delete from your operating system to disable the secret connection to unreliable adware servers. If you cannot remove SaverExxtensIon and, more importantly, the related threats manually, you should use automatic malware removal software instead, and we recommend using SpyHunter.