Do you know what Saver is?
If Saver manages to sneak onto your computer, it will not stay low for long; you will definitely notice its annoying and potentially unreliable third-party ads it tends to display while you are surfing the web. Our researchers have classified it as an adware program due to the fact that it can show you potentially harmful commercials, such as banners and pop-ups, through browser extensions. Since this adware can affect the major browsers, you will definitely be annoyed by its ads if you use Mozilla Firefox, Google Chrome, and Internet Explorer as well. There have been no reports about Microsoft Edge infections by this malware yet, but it might happen in the future. Because of the risks this ad-supported program may hold for your privacy and your computer, we believe that you should not hesitate to act. It is best to remove Saver entirely from your system, if you do not want to be introduced to more security-related issues and infections.
Although this adware can be found on a domain (savey.net), you will not find a functioning web page there. You can still download the installer of this application called Saver.exe. However, according to our researchers, if you are using Google Chrome and it is updated properly, your download will be interrupted and the file blocked as potential danger to your computer. It seems that Internet Explorer and Mozilla Firefox are totally fine with downloading this adware installer. That is why the best protection is having an antimalware tool installed and active because it can detect malicious content in websites and installers as well, and protect your computer from these before they could "set foot" in your system.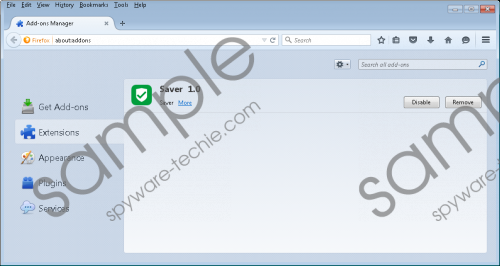 Saver screenshot
Scroll down for full removal instructions
As a matter of fact, there is little chance that you would end up on this "official" website to download this application. What is much more likely is that you click on infected third-party pop-up ads generated by adware applications, or you land on questionable freeware and torrent sites while searching the web for a new tool or software to install. Inexperienced users may not be alert enough when it comes to downloading free applications. Unfortunately, it is great business for schemers to run fake file-sharing websites, which many times are automatically generated using frequently used search queries. Therefore, you may believe that you have finally found a website where you can download your target file, but, instead, you will end up with a package of malware installers on your computer. Whenever installing bundles, you should make sure you fully know the content; otherwise, you can allow a number of unwanted security threats onto your machine. It is possible that you are uncertain as to how this adware landed on your PC; therefore, we advise you to run a full system malware scan right after you remove Saver.
This adware installs extensions in the above-mentioned browsers so that it can display advertisements while you are browsing. But apart from these, it also changes the Google Chrome shortcut Target line so that the extension reactivates every time you restart Chrome. This way you cannot kill it. Here is the string it appends after the normal path: "--load-extension='C:\Users\user\AppData\Local\FASTExtensions\nfeotgmnpeepdbcklegpcengnhgllhoe'." Leaving the Target line like this can keep this adware exposing you to potentially dangerous web content when using Chrome.
You should not leave this infection on board because apart from showing you potentially unreliable ads, which seem to be mainly from Israel and regarding losing weight (slim-patch-plus.co.il/mini/7/desktop/?source=foxweb and islim.co.il/mini/1/desktop/?source=foxweb), it may also be able to hijack legitimate ads. This means that you may think that you are viewing a safe and reputable website and you can click on ads displayed on that page, but, unfortunately, you will still be redirected to malicious websites. Any engagement with such sites can end badly for you. It is possible that you will "only" get "richer" by a few more malware infections, but you could be scammed in more dangerous ways as well. You should not think twice to remove Saver if you want order and safety on your computer.
In order to clean your computer fully of this infection, you should follow our instructions below step by step. Although this adware does have a working uninstaller, which you can run via Control Panel, it will not take care of all the components and will leave a few leftovers for you to clean up afterwards. For example, you will have to manually restore your Google Chrome Target line. Keep in mind that this will only free your system of Saver. If you do not eliminate all potential threats from your PC, you will not be fully secure. You can choose to go about it manually if you are an experienced or expert user, but we recommend that you protect your computer with a decent antimalware tool for peace of mind.
Saver Removal from Windows
Windows 8, Windows 8.1, and Windows 10
Press Win+I and access Control Panel.
Click Uninstall a program.
Select the application and press Uninstall.
Windows Vista and Windows 7
Press Win+R and type in Control Panel. Hit OK.
Select Uninstall a program.
Click on the application and press Uninstall.
Windows XP
Open the Start menu and access Control Panel.
Click Add or Remove Programs.
Select the application and click Remove.
Remove Leftover
Tap Win+E to launch Windows File Explorer.
Type in "C:\Users\user\AppData\Local\FASTExtensions" in the address bar and press Enter.
Remove this folder.
Restore the Target line
Right-click on the Google shortcut on your desktop.
Select Properties and choose the General Tab.
Make sure that Read-only is unticked.
Switch to the Shortcut tab and remove the added string in the Target line: " --load-extension='C:\Users\user\AppData\Local\FASTExtensions\nfeotgmnpeepdbcklegpcengnhgllhoe'".
Press OK.
Right-click on the Google shortcut on your Taskbar (if there is one) to bring up the related menu.
Right-click on the Google Chrome option at the bottom.
Repeat steps 2 to 5 to restore the Target line.
In non-techie terms:
Saver is an annoying adware application that may present to you potentially unreliable third-party web content through its third-party commercial advertisements. Since this malware may slither onto your operating system without your knowledge, it is quite possible that you do not know about the other malware infections either, which may have arrived in the same freeware bundle. Due to the fact that these threats can expose you to dangerous third-party websites where you may get scammed by cyber criminals, we recommend that you remove Saver ASAP along with all the other infections. If you prefer an automated solution, we suggest that you install a reliable malware removal program that will take care of all your existing issues and also safeguard your computer from future security threats, including infected websites and malware programs.