Do you know what SaveDeals is?
Do you believe that the ads shown by SaveDeals will help you save money? If you do, you might blindly click on ads that, in reality, cannot be trusted. Our research team researched this advertiser and found that it is directly associated with Pro Shopper. Is this advertising-supported program installed on your Google Chrome browser? If it is not, maybe you can blame a different ad-supported program instead? You can apply a malware scanner to figure out which adware has settled into your browsers and requires removal. Do you know why you need to delete SaveDeals-related adware? You can learn all about this by reading this report.
SaveDeals advertisements are likely to show up when you download adware from pro-shopper.ru or the Chrome web store at chrome.google.com/webstore/detail/pro-shopper/pfnggenhnoekmaipoignmncmiacnembl. At the moment, Pro Shopper is compatible only with Google Chrome, and that is good news because this means that the extent of this adware is quite limited. Alternatively, this program could be offered along with other programs using the method called "bundling." Are the programs installed along with Pro Shopper reliable or do they require removal? Unfortunately, it is likely that you will need to delete third-party malware if you find SaveDeals advertisements popping up left and right.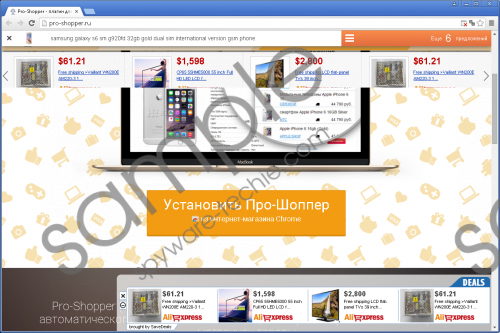 SaveDeals screenshot
Scroll down for full removal instructions
"Ads by Savedeals" is one of many tags that could be used to identify the ads associated with Pro Shopper. These advertisements are unpredictable because the parties behind them might be concealed. Of course, you might encounter links that will simply route you to commercial websites just to boost traffic to them. However, no one is protected from links to malicious, corrupted websites that might introduce scams. This is the main reason why we do not recommend interacting with SaveDeals ads. Are the deals shown to you irresistible? This is most likely because they are based on the information collected by Pro Shopper cookies. These cookies might collect sensitive information as well, which is why we advise removing them.
If SaveDeals-related adware was installed onto your PC along with other programs, you have to think about removing them as well. We suggest implementing an automated malware removal tool to delete unreliable software from your PC. Of course, we are sure that some users will have no trouble deleting adware and other programs manually. For example, you can remove SaveDeals ads by eliminating the Chrome extension, as shown in the guide below. Should you decide to go with the manual removal option, we suggest using a legitimate scanner to help you identify malware.
Delete SaveDeals from Chrome
Launch Chrome and tap Alt+T.
Navigate to More tools and click Extensions.
Identify the unwanted extension and click the recycle bin icon on the right.
Select Remove and restart your browser.
In non-techie terms:
Do you have experience removing malware? Well, you do not need to delete SaveDeals-related adware from your Chrome browser. Once you delete the extension responsible for SaveDeals ads, you should scan your PC to see if other unreliable, intrusive, malicious programs have entered your operating system. If you find malware, make sure that you eliminate it completely. If you fail to eliminate this malware yourself, employ automated malware removal software. You can start a discussion below if you have questions about adware or its removal. We will make sure to help you to our best ability.