Do you know what Satan Ransomware is?
Satan Ransomware is what our specialists call Ransomware as a Service (RaaS). Apparently, anyone who is willing to share collected ransoms with the malicious application's developers can create an account and receive their custom-made version. For the ability to distribute the infection among computer users and extort money from them, the cyber criminals have to pay thirty percent of the extorted sums. The malware enciphers user's private data with a strong cryptosystem, so it becomes impossible to access it. Afterward, the infection displays a ransom note in which the ones who distribute their personal version of Satan Ransomware state how much they want you to pay for the decryption tools. As there are no refunds and no guarantees, paying the ransom might be the same as throwing your money out. If you do not want to risk it, you should ignore the note and erase the malicious program with a reliable antimalware tool or the removal guide available below the main text.
Cyber criminals who create their custom-made versions can decide how to distribute the malware, so separate versions could be spread via different channels. For example, Satan Ransomware may travel with infected email attachments, malicious software installers, etc. Thus, it might be not so easy to guard your system against it. If you do not want to find yourself in a similar situation ever again, it would be advisable to be more careful with data downloaded from the Internet, especially suspicious sources, for example, Spam emails, unreliable web pages, questionable file-sharing sites, and so on. Also, users could try to strengthen their system by installing legitimate antimalware software; with it, you may scan suspicious data before launching it and determine whether it is malicious or not.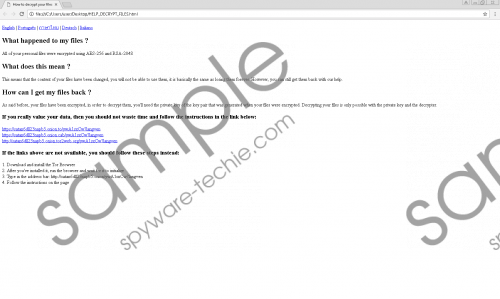 Satan Ransomware screenshot
Scroll down for full removal instructions
The malware should not place any data on the system as it is supposed to work from the directory where the user downloaded its setup file and launched it. After the infection settles in it might begin encrypting various documents, videos, music files, pictures, photographs, and other personal data. According to our researchers during the process, it should be enciphered with secure cryptosystems called AES-256 and RSA-2048. Therefore, after the files are affected the users should be unable to open them. In fact, you might find it difficult even to recognize your personal files as their titles could be replaced with random names. Even the files' extensions could be replaced with identical .stn extensions too. After Satan Ransomware encrypts all data, it might place specific HTML files in random folders.
Furthermore, if you open the HTML file, your browser might load the malware's ransom note. It should tell you that you need to pay a ransom if you want to get a tool with which you could decrypt the malicious program's encrypted data. The price should be estimated by the cyber criminal who distributed the particular Satan Ransomware's version your computer was infected with. The problem here is that to purchase the decryption tool you have to deal with the cyber criminals and none of them can be trusted.
Naturally, we advise all users who do not want to risk losing their savings not to take any chances with Satan Ransomware and eliminate it as fast as possible. If you take a look at the removal guide available little below this text, you will learn how to locate the threats malicious data and erase it manually. However, if you cannot find it on your own, it would be safer to use reputable antimalware software instead. It could detect the infection automatically while doing a system scan, so you could get rid of it by simply clicking the deletion button.
Delete Satan Ransomware
Press Windows Key+E.
Navigate to Desktop, Downloads, Temporary Files, and other locations where you may have downloaded the malware's installer.
Find the malicious file, select it and press Shift+Delete.
Remove the ransom notes by pressing Shift+Delete as well.
Close the Explorer.
In non-techie terms:
Satan Ransomware is a recently created malicious file-encrypting application. The threat can be distributed by different cyber criminals as the malware's creators offer a custom-made version of it to anyone who agrees to share with the money extorted from the infection's victims. This is why the estimated price for the decryption tool could be not the same for different users. Nonetheless, no matter how much you are asked to pay we advise you not to risk with your saving and eliminate the malware. After all, you might be able to recover some files from copies if you have any, so there might be no need for such risk. To get rid of the threat, you could have a look at the removal guide located above and erase it with a legitimate antimalware tool.