Do you know what Salsa Ransomware is?
Salsa Ransomware is obviously a malicious computer infection that aims to make as much many as possible by forcing the innocent users to give away their savings. This application will encrypt your files, and it will say that you can restore them if you pay the ransom fee. Needless to say, you should not succumb to these threats because paying only encourages these criminals to continue their illegal activities. Please remove Salsa Ransomware from your computer following the manual removal instructions we have prepared for you below this description. When you are done, safeguard your system from other infections.
Just like most of the ransomware infections, Salsa Ransomware should also spread via spam email messages and fake download notices. It presents a challenge in trying to curb this ransomware endemic because these days spam emails manage to seep through the spam filter into the main inbox. Even one of our team members has been receiving random spam messages in Brazilian Portuguese lately. Since our colleague does not speak Portuguese, they know that these emails are spam, and off to the spam folder they go. However, some users may think that such emails carry some important information, especially if they come with attachments. As a result, they end up downloading the attachments and opening them.
What happens when you open the attached file that carries the installer for Salsa Ransomware? You obviously launch the infection. The ransomware program scans your computer looking for files it can encrypt. Normally, ransomware programs do not encrypt every single file on the affected computer because then the user would no longer be able to connect to the Internet and, consequently, pay the ransom fee. Hence, Salsa Ransomware and other programs should target the most commonly used user files that are usually stored in the My Documents, My Pictures, My Videos, and other similar folders.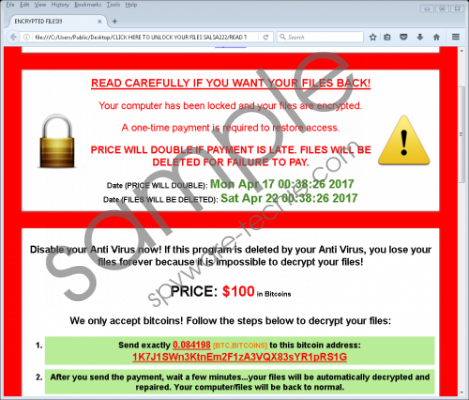 Salsa Ransomware screenshot
Scroll down for full removal instructions
What's more, Salsa Ransomware seems to be a quite far-reaching ransomware infection because it has been translated into 40 languages. Most of the commonly known ransomware programs are very region-oriented. They usually affect several countries with the high GDPs, which would automatically ensure that if the infected users pay, they pay well. However, Salsa Ransomware seems do not make much of a distinction between the economical prowess of different countries, and it infects users across the world in an equal manner. Not that this is a kind of lack of discrimination we should be happy about it.
Unfortunately, there is no public decryption tool at the moment that would help users restore their files. Therefore, when you remove Salsa Ransomware, you should look for a backup drive where you keep copies of your files. Even if you think that you do not backup your files regularly, you may actually have quite a few files saved on your mobile device or on a virtual cloud drive. So when you delete the encrypted copies of your files, you can transfer the located healthy copies back into your clean and safe computer.
Needless to say, once the encryption is complete, Salsa Ransomware wastes no time to inform you about it. It adds the .salsa222 extension to the end of every single affected file, and the program changes your desktop's background. It also opens your browser's window to display the ransom note, which says the following:
READ CAREFULLY IF YOU WANT YOUR FILES BACK!

Your computer has been locked and your files are encrypted.

A one-time payment is required to restore access.

PRICE WILL DOUBLE IF PAYMENT IS LATE. FILES WILL BE DELETE FOR FAILURE TO PAY.
Salsa Ransomware requires you to pay $100USD in bitcoins within five days. If you fail to comply, it says that the key that should restore your files will be destroyed. However, even if you were to pay the ransom (which you should never do!), it is highly unlikely that the criminals behind Salsa Ransomware would issue the decryption key.
Therefore, just as mentioned above, you should look for other ways to restore your files, focusing on the ransomware removal. If you do not want to remove Salsa Ransomware on your own, you can terminate it with a security tool that will scan your computer, deleting all the other potential threats (if found).
How to Remove Salsa Ransomware
Press Win+R and type %AllUsersProfile%. Click OK.
Delete the DONOTDELETESALSA folder from the directory.
Press Win+R and type regedit into the Open box. Click OK.
Go to HKEY_CURRENT_USER\Software\Microsoft\Windows\CurrentVersion\Run.
Right-click the Salsa222 - data value on the right. Select to delete it.
Remove the most recently downloaded .exe files.
Scan your PC with the SpyHunter free scanner.
In non-techie terms:
Salsa Ransomware is a malicious infection that will not allow you to open your files anymore. You have to remove it to continue using your computer properly. But you also have to understand that it may not be possible restore your original files, but sacrificing your files still sounds better than getting ripped off by cyber criminals. If you need help with the ransomware removal, please contact us by leaving a comment. Our team will make it sure your system is safe and clean again.