Do you know what SalesMagnet is?
If you are a frequent online shopper, you should know that the application known as SalesMagnet will not actually aid you in saving money. All the promises made by the publishers within the official website are misleading to say the least. Unfortunately, unsuspecting users are often fooled into installing such applications. The truth is there are virtually no programs that will provide you with actually useful offers. SalesMagnet is just one more adware application that is used to promote third-party commodities. If you do not remove SalesMagnet, it means that you are exposing your operating system to other internet-based infections. Researchers at Sypware-Techie.com have put up a comprehensive removal guide that is included within the article.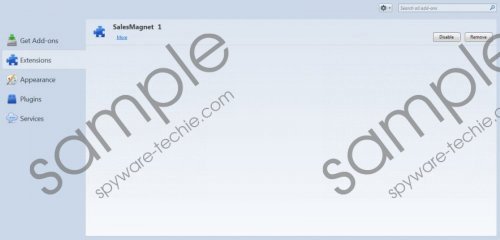 SalesMagnet screenshot
Scroll down for full removal instructions
SalesMagnet is compatible with browsers such as Google Chrome, Mozilla Firefox, and Internet Explorer. After successfully entering your operating system, this nasty application will install browser extensions to all the browsers mentioned. Your default browser will be flooded with numerous worthless commercial adverts and annoying pop-ups whether you like it or not. A removal of the extensions only might seem like a good idea, but it will not work entirely. That is because certain files that were inserted within your system might be used to restore the extension time after time. Therefore, it is quite obvious that the complete removal of SalesMagnet is a must if you want to stop the annoying and frustrating activities.
But the annoyance and frustration caused by SalesMagnet is not the worst thing about it. Often pop-ups powered by adware programs promote various fake updates. One of the most common fake updates is the Flash player one. Generally users fall prey to such fake update because it mimics the original design of Adobe. Usually such updates are filled with unknown internet-based infections that could turn out to be quite detrimental to your operating system. If you found out that SalesMagnet is present on your system, you are firmly advised not to click on any provided adverts. You should remove SalesMagnet ASAP if you wish to maintain a clean and secure system at all times.
The removal guide of SalesMagnet that we provide works just fine. If you will follow it closely, you should not encounter any problems. It is also important to note that in some cases removal via Control Panel might not remove the infection entirely. It is likely that some traces of SalesMagnet might still remain on your computer. These leftovers could be the cause of why your PC is running slower, or it could be used to connect to the internet without your permission in order to restore the dubious adware application. After manual removal, you are advised to check your system thoroughly for any files, folders, or registry entries associated with SalesMagnet just to make sure that it was removed completely.
How to remove SalesMagnet from your PC
Remove SalesMagnet from Windows 8
Move the mouse cursor to the right bottom corner of the desktop.
Now select Settings in the Charm bar.
Then click Control Panel.
Now select Uninstall a program.
Then select SalesMagnet and click Uninstall.
Remove SalesMagnet from Windows 7 and Windows Vista
Tap the Windows key.
Then select Control Panel.
Now click Uninstall a program.
Select SalesMagnet and double-click it to remove.
Remove SalesMagnet from Windows XP
Click the Start button and select Control Panel.
Now select Add or Remove Programs.
Remove SalesMagnet.
How to remove SalesMagnet extensions from browsers
Remove SalesMagnet from Google Chrome
Tap Alt+F and click Settings.
Then click Extensions.
Click the trash can icon to remove the SalesMagnet extension.
Remove SalesMagnet from Mozilla Firefox
Tap Alt+T and then select Add-ons.
Now select Extensions.
Click remove to get rid of the SalesMagnet extension.
In non-techie terms:
It is essential to realize that adware applications, including SalesMagnet, are a very serious virtual threat as they are often used as a backdoor to install other, potentially more dangerous, infections. You should not hesitate and remove SalesMagnet. We provide an alternative removal method that is not as time consuming and will remove the infection completely.