Do you know what SalesChecker is?
Usually numerous commercial third-party adverts, coupons, and annoying pop-ups within your browser are an indication that your system is running an adware application. SalesChecker is one of those invasive programs. If you found this or any other adware program running on your system, you should take immediate measure to remove it.
Programs like SalesChecker are usually targeted to frequent online shoppers because they are marketed as useful tools that will help you save money while you are shopping online. Quite a few users are manipulated by these dubious marketing strategies into installing the worthless and even malicious program. You must know that SalesChecker will in no way save you money or time. In reality, this adware program is only capable of disrupting you while you surf the web or even worse – expose your PC to other malicious applications as it could be used by internet-based infections as a backdoor into your system. Remove SalesChecker without hesitation using the instructions provided below.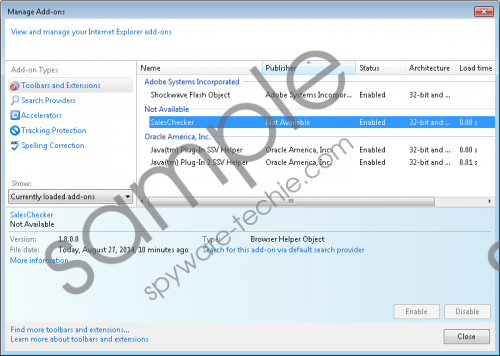 SalesChecker screenshot
Scroll down for full removal instructions
Our research team at Spyware-Techie.com discovered that SalesChecker is distributed via bundled software. The research also revealed that Vittalia, InstallRex, and Amonetize installers are the ones usually responsible for SalesChecker distribution. Refrain from downloading software on suspicious third-party download websites because they tend to promote the mentioned installers.
Furthermore, pay extra attention to setup processes and always choose advanced installation as it will provide paramount information about the installation. You might be presented with an option to cancel any additional installation. Of course, safe browsing habits are important and certainly reduce the risk of infecting your PC but without a reliable antimalware tool your computer is constantly in danger.
SalesChecker functions in virtually the same way as its counterparts – applications based on the JustPlugIt engine – KingCoupon, DealsFactor, CouponAddon, SaveNShop, AdBlockNWatch, BetterPriceChec and many others. Since the adware application is compatible with Google Chrome, Internet Explorer, and Mozilla Firefox, it will insert browser extensions to all of them. These SalesChecker extensions interact with numerous adware servers in order to display adverts within your browser. Adware servers are infamous for being linked to malware distribution. So it is not surprising that some adverts might contain redirect links to websites filled with malware. You could land on web pages running an arbitrary code execution exploit. It means that your system, more often than not, will be infected with unknown malware – it could be a Trojan, keylogger, or rootkit just by landing on such a website. Stop these malicious and annoying activities by removing SalesChecker now.
Fortunately, the removal of SalesChecker is plain and simple. You will only need to delete the infection via Control Panel. SalesChecker and numerous other adware programs are a major virtual threat. If you are keen to keep your system clean and secure, you should delete SalesChecker or any other suspicious application ASAP.
How to remove SalesChecker from your PC
Remove SalesChecker form Windows 8
Access the Metro UI menu.
Right-click the background and select All apps.
Now locate and click Control Panel.
Select Uninstall a program.
Select SalesChecker and click Uninstall.
Remove from Windows 7 and Windows Vista
Tap the Windows+R keys on your keyboard.
Now type Control Panel into the text box.
Click OK.
Select Uninstall a program.
Now right-click SalesChecker and select Uninstall.
Remove SalesChecker from Windows XP
Click the Start button and select Control Panel.
Then click Add or Remove Programs.
Select and remove SalesChecker from your PC.
In-non techie terms:
If manual removal seems too complicated, you should follow the instructions provided below. Sometimes it is best to let the professional antimalware tool do the job for you as it will ensure that your system is clean and secure.