Do you know what Sale Charger is?
As the name indicates, Sale Charger is an advertisement-supported program that should "enhance" your online experience by serving you the most attractive commercial offers. Regardless of the promises, we still think that it is best that you remove this adware application, since, despite the promises, it might easily turn your web browsing into a frustrating activity. Sale Charger – as well as Strong Signal, Dragon Branch, Positive Finds, and other apps from the Injekt family – is designed exclusively to serve commercial advertisements that, when clicked, redirect users to the third-party sites. This is all part of the model that, when accessing the sites, results in the increased web traffic, which in turn equals increased profit for both developers and advertisers. As you can see, you are important as long as you click on the featured links, which might not even always be safe, so it is best that you just simply delete this completely worthless program from your PC.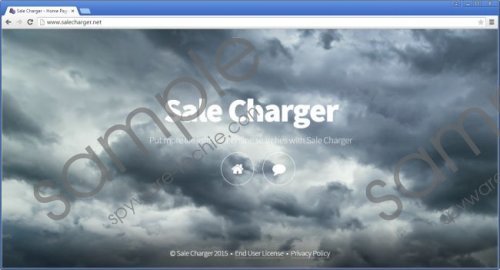 Sale Charger screenshot
Scroll down for full removal instructions
If you delay getting rid of this adware app, you will be presented with pop-ups, banners, and other clutter promoting products, services, software downloads, and other content. It is crucial that you do not click these Sale Charger-promoted ads, because you might easily be transferred to sites that are set up to host malware or present users with various fake marketing deals. Every minute you delay to remove Sale Charger is another minute when you can click on the third-party link, possibly exposing you to Internet-based dangers.
The best preventative measure if you do not want your system infected with Sale Charger is to stay clear from questionable third-party sites that distribute unrecognizable or pirated software. Also, remember that freeware and shareware programs generally spread bundled with companion applications, one of which might be Sale Charger. We recommend that you always run a background check on all the applications you run into for the first time. All in all, you should choose the most reliable sources to download software from, such as the official sites, and install antimalware software that will automatically inform you about all the infections you run into.
Have you decided to remove Sale Charger from your PC? If the answer is "yes," follow the removal instructions below that will help you to complete this task with as much ease as possible. However, bear in mind that the removal will not be 100% complete as long as you do not scan your computer with a professional antimalware program. This tool should be an important part of your security system, because it can make sure all the threats are intercepted just before they sneak onto your PC.
Removal instructions
Windows 8 & 8.1:
Open the Charm bar to reach Settings, and then choose Control Panel.
Select Small Icons under View by and go to Programs and Features.
Choose the application you wish to remove from the system and click Uninstall/Change.
Windows 7 & Vista:
Open the Start menu and choose Control Panel on the right.
Select Small Icons under View by and go to Programs and Features.
Select the unwanted program and click Uninstall/Change to remove it.
Windows XP:
Open the Start menu and choose Control Panel on the right.
Switch to Category View and go to Add or Remove Programs.
Choose the unwanted application and click Remove.
In non-techie terms:
Sale Charger is a notorious adware program that serves unreliable third-party ads. This application can be taken advantage of by cyber criminals to infect you with malware or to get hold of the sensitive data you store on your PC. We urge you to seek the assistance of a professional antispyware tool to remove this program.