Do you know what SafeSearch by Raaz is?
SafeSearch by Raaz is a browser extension that is classified as a potentially unwanted program. It means that the application is not a malicious infection, but it has specific features that may be considered undesirable by multiple users. Computer security experts suggest that you remove SafeSearch by Raaz from your browser before the extension manages to expose you to something corrupted. You can find detailed removal instructions below this description although if you want to find out more about the extension itself, continue reading the article. We will tell you where this application comes from and how it would be possible to avoid it.
One of the reasons we cannot claim SafeSearch by Raaz is a malicious infection is the fact that you can download this program from raaz.io. This website is the official homepage for this extension, and you can easily read more about the application on the page. The question is, however, whether the information provided on the site is reliable or not. For example, when you access the main page, you see features of the program listed, and it says that with SafeSearch by Raaz you can surf the web anonymously. This extension should help you "protect your privacy while you search the Internet."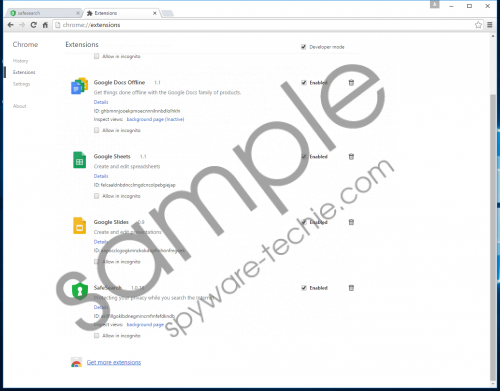 SafeSearch by Raaz screenshot
Scroll down for full removal instructions
Needless to say, all of us would like to keep our web searchers private and safe, but it is doubtful whether this application could actually help you with that. Even though the extension is available at the Chrome Web Store, the user reviews are not too positive. Some of the users even complain that they want to delete SafeSearch by Raaz, but they do not know how to do it. Luckily, you have opened the right page because we will tell you how to get rid of this application without any difficulties.
Now, since we have already figured out that users can download this application willingly from the official website, we need to take into consideration the other potential method of distribution. Our security experts suggest that SafeSearch by Raaz can be downloaded from third-party file-sharing websites. This assumption is backed up by the fact that quite often users do not even understand how this extension managed to slither into their browsers. This happens when users download and install bundled software. It means that there are several applications in one installer and users install them all if they go through the installation wizard automatically.
As far as the popularity of this extension is concerned, more than 80% of all installations have been registered in the United States, while up to 12% of the installations have been recorded in the United Kingdom. Naturally, national borders do not exist for the program's distributors, so you may get this extension on your browser no matter which country you reside in. And what's more, if you allow SafeSearch by Raaz to be installed on your system, this application will also modify your default search engine, changing it to safesearch.raaz.io.
Fortunately, this extension affects only the Google Chrome web browser, and it is not compatible with other popular browsers. Even so, you should keep in mind that some of the program's components may affect your PC even if you do not have the browser that works with this extension. On top of that, if you DO use the Chrome browser, most of your web searches will be redirected to the safesearch.raaz.io. This search engine does not provide you with reliable search results; most of them are just commercial links and they expect you to click them to increase traffic on those third party websites.
For the most part, such redirections are more annoying than dangerous, but you should not take your chances. If you do not remove SafeSearch by Raaz from your computer, in the long run, you might get infected with malware that enters your system via promotional links, and then you will definitely have a lot of problems to deal with.
While you are at it, you should also run a full system scan with the SpyHunter free scanner because you may need to remove many other unwanted applications from your PC. You may not be aware of additional unwanted programs, but we are sure that you are bound to find some. Do all it takes to protect your computer and your personal information from malicious exploitation.
How to Delete SafeSearch by Raaz
Press Win+R for the Run prompt to open.
Type in %LOCALAPPDATA%\Google\Chrome\User Data\Default and press OK.
Open the Extensions folder and remove the akllfillgoklbdnegmincmfmfefdkndb folder.
Go back to the Default folder and find the files Preferences, Secure Preferences, and Web Data.
Right-click every file and Delete them.
In non-techie terms:
SafeSearch by Raaz look like a useful browser extension that should improve your web searching experience. Unfortunately, the application may also be exploited by cyber criminals for corrupted content distribution and other suspicious activities. Therefore, the sooner you remove SafeSearch by Raaz from your system, the better. You need to protect your computer from potential intruders that could contribute your system's downfall.