Do you know what SaferSurf is?
SaferSurf is an adware application from Lyrics family. It means that this program pretends it has a useful function, and it urges users to install it onto their computers to make use of that function. However, there is no direct download link for SaferSurf, and that is very common among adware applications. At the same time, it does not mean that this program enters your system surreptitiously. You may not be aware for the fact that you install it onto your PC, but you can remove SaferSurf whenever you want to.
Other adware applications from the Lyrics family (like Lyrics Monkey or Boby Lyrics) used to offer karaoke function for YouTube videos. SaferSurf, on the other hand, chooses the path more common for adware applications – it tries to convince you that with SaferSurf installed on your PC you will be able to purchase your favorite goods at a lower price. What is more, this program makes an impression that you can save money while shopping online!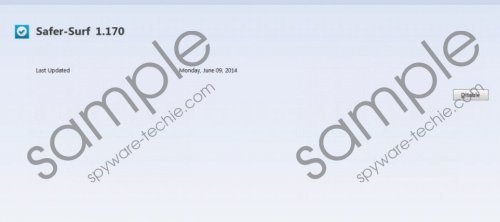 SaferSurf screenshot
Scroll down for full removal instructions
However, some users think that SaferSurf is a virus, because they have no idea how this application has entered their computers. Our team says that just like other programs from the Lyrics family, this application comes bundled with fake Java or Adobe flash installers and other third-party downloaders. Have you recently clicked a pop-up that offered you to update your media player or your Adobe Flash plug-in? Did the pop-up appear randomly out of nowhere while you were browsing the Internet? If so, it is very likely that you have installed SaferSurf onto your computer together with that "update."
Needless to say, that is was no update. Adobe Flash and other programs should be updated via official websites and updates ONLY. If you make use of a third-party update, it is very likely that you will end up installing a lot of adware programs onto your computer. SaferSurf will be one of them.
SaferSurf makes use of gom.opentri.net and ndo.coreopti.net adware servers to generate commercial pop-ups. Needless to say, that this program does not review what kind of content is embedded into its ads, so when you click SaferSurf pop-up, you click it on your risk.
Such adware applications present a variety of computer security risks, and that is not only because they are potentially unwanted! SaferSurf could be exploited by a malevolent third party to distribute corrupted content, so before any of that happens you need to take care of this issue right now.
Uninstall SaferSurf from your computer immediately and scan the system with SpyHunter free scanner. There should be other potentially unwanted programs installed on your PC, so you need to terminate them as well. Eventually, acquire a powerful antimalware tool to ensure your system's security.
How to remove SaferSurf
Windows 8
Move mouse cursor to the bottom right of the screen.
Click Settings on Charm bar and go to Control panel.
Select Uninstall a program and remove SaferSurf.
Windows Vista & Windows 7
Open Start menu and select Control Panel.
Go to Uninstall a program and remove SaferSurf.
Windows XP
Click Start menu button and navigate to Control panel.
Select Add or remove programs and uninstall SaferSurf.
For secondary adware removal instructions, please scroll down to the bottom of this description.
In non-techie terms:
SafeSurf is a potentially unwanted application that displays a lot of annoying pop-ups. It may be related to a variety of computer security threats, so users are strongly encouraged to remove it from their computers as soon as possible.