Do you know what Safepage.easyfiletool.com is?
Safepage.easyfiletool.com is no ordinary search engine. It is distributed using rather deceptive methods to hijack Google Chrome's homepage. You might also want to remove this uninvited search engine due to the fact that it can collect sensitive information about you and show cleverly disguised commercial advertisements. We have no doubt that the only reason this search engine exists is to make money for its developers. It is plain to see that this search engine has no added value whatsoever. Therefore, we invite those of you who think that there is nothing wrong with it to read this description and possibly reconsider your position.
Our malware analysts found that this search engine was created and is currently owned by a company called Bysenda Technology Inc. This Hong Kong-based company is also responsible for releasing another search engine called Search.sosodesktop.com and an unreliable browser known as Ghokswa Browser that we have classified as a potentially unwanted program. So it is clear that this developer is in the business of creating unreliable, useless products whose only purpose is to make them money.
Safepage.easyfiletool.com comes with an application called EasyFileTool. This program is promoted as a free FTP solution that can upload and download various files, manage file transfers, and backup and synchronize remote and local files. We do not know if this program is any good, but testing has shown that it is not malicious. When you install this application you will be offered to install Safepage.easyfiletool.com as the default homepage for Google Chrome. However, the installer will actually install a browser extension that will change the homepage.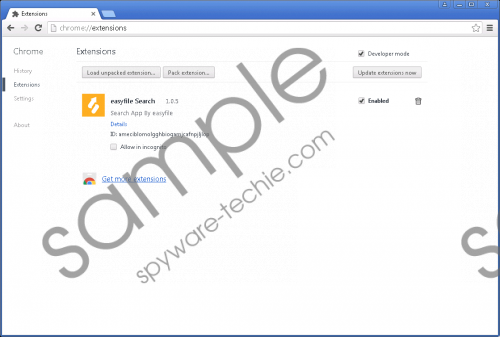 Safepage.easyfiletool.com screenshot
Scroll down for full removal instructions
You may be inclined to use this search engine, but want to warn you that it and its accompanying browser extension called Search App By EasyFileTool can collect certain information about you which you probably would not share if you that they collect it. Our researchers have found that Search App By EasyFileTool will keep tabs on your social media accounts such as Twitter, LinkedIn, and most likely Facebook to get information such as your first and last name, social media handle and email address. This information has its purpose. This browser extension will use this information to present and tailor advertisements on the social media sites you use. Also Safepage.easyfiletool.com will collect non-personally identifiable information such as your device operating system type, browser type, browser language, pages you viewed, and so on.
The final nail in the coffin for Safepage.easyfiletool.com is the fact that it not a real search engine because it redirects all of the searches to Google.com, so it is plain to see that it offers absolutely nothing to the end-user experience. Some fake search engines use Google Custom Search to include additional often unreliable advertisements, but this one seems to settle on using the standard Google search.
Lastly, we want to mention that when you uninstall Search App By EasyFileTool it will leave junk files in %LOCALAPPDATA%\Google\Chrome\User Data\Default\Extensions if you are using an OS from Windows Vista to Windows 10 or %UserProfile%\Local Settings\Application Data\Google\Chrome\User Data\Default\Extensions if you are still using Windows XP. You have to delete a folder titled ameciblomolgghbiogamjcafnpjljlop. This is necessary cut of this extensions link to its server which receives the collected information.
We hope that the information we have provided you with in this short article was useful. It is evident that Safepage.easyfiletool.com is an unreliable search engine that has nothing valuable to offer. It redirects all search queries to Google.com, collects sensitive information for marketing purposes, and subjects you to secretive ads on social media sites. So if you want to remove this search engine, then we suggest that you use our tested removal guide.
Uninstall this program via Control Panel
Windows XP
Click Start and go to Control Panel.
Open Add or Remove Programs.
Find EasyFileTool and click Remove.
Windows 7 and Vista
Open the Start menu.
Select Control Panel and go to Uninstall a program.
Find EasyFileTool and right-click on it.
Click Uninstall.
Windows 8/8.1 and 10
Right-click on the Start menu/Start screen.
Select Programs and Features.
Find EasyFileTool and right-click on it.
Click the Uninstall button.
Delete the leftover files
Press the Windows+E keys.
Type one of the following addresses in the address bar.

%LOCALAPPDATA%\Google\Chrome\User Data\Default\Extensions (Windows 10, 8.1/8, 7, and Vista.)
%UserProfile%\Local Settings\Application Data\Google\Chrome\User Data\Default\Extensions (Windows XP.)

Find ameciblomolgghbiogamjcafnpjljlop, right-click it and click Delete.
In non-techie terms:
Safepage.easyfiletool.com is a search engine designed to replace your browser's default homepage after you install EasyFileTool. This search engine uses Google.com to process all of its searches and with the help of the Search App By EasyFileTool broser extension can collect sensitive information about you and display commercial advertisements on social media networks. So do not hesitate to remove it.