Do you know what Safeforsearch.net is?
If you have noticed a sudden change in your web browser's default settings, it is a strong indication that a browser hijacker is up and fully running on your personal computer. One such application goes by the name of Safeforsearch.net and is currently roaming the web. If unfortunately, it is already up and running on your personal computer, make sure to perform its complete removal right away. We advise you to do so since this invasive piece of software can cause annoyance and frustration to your daily online activities. What is even worse is the fact that it could prove to be quite dangerous as well. To find out more about the intrusive functionality of this browser hijacker, read our detailed report. Besides such valuable information, we also include a comprehensive removal guide that will help you delete Safeforsearch.net in just a few quick and easy steps.
Safeforsearch.net functions a lot like of its contemporary counterparts. It mostly relies on a browser extension to do all the dirty work. Thus, as soon as this hijacker gains full access to your PC, it immediately implements your browser with a dubious plug-in, whether you like that or not. Once that is done you will notice a change within your browser's default settings; the hijacker alters your default search engine without any notification whatsoever, which makes it even more annoying. At first, it might not seem like a big deal. Unfortunately, you will gradually realize the negative effects that such a small change has on the way you experience the web. For as long as the hijacker in question will be active on your personal computer, you will be forced to use a suspicious third-party search engine, instead of the one you might prefer. What makes matters even more frustrating is the fact that you could be presented with a lot of third-party sponsored results that might have nothing to do with your original online query. It is not hard to see that due to such intrusive functionality, browsing the web the way you are used to will be almost impossible. To restore your browser's default settings so you could enjoy the Internet the way you like it, you must execute a thorough removal of Safeforsearch.net as soon as it is found up and running on your PC. To terminate the hijacker in question without encountering any problems be sure to follow the detailed instructions that we provide below.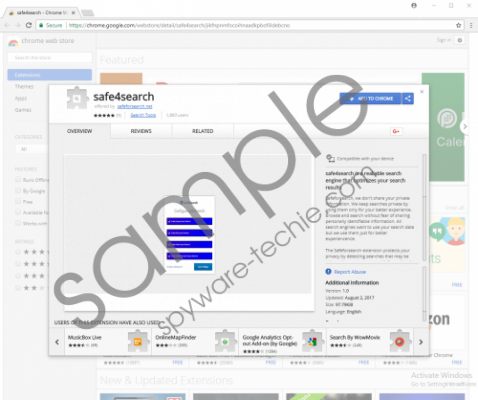 Safeforsearch.net screenshot
Scroll down for full removal instructions
Unfortunately, there is more to Safeforsearch.net than meets the eye. Upon deeper investigation, malware experts at Spyware-Techie.com have discovered that by using the suspicious search engine you risk subjecting your operating system to questionable and even potentially harmful web content. As it turns out some of the results could host devious redirect links that might lead you to all sorts of devious web sites. There is a chance that you could end up on fake online stores, which are created by cyber criminals to steal your credit card data or other sensitive information. In other situations, you might be redirected to a web page that runs an arbitrary code execution exploit. If you are not familiar with this particular exploit, you should know that it can trigger a remote installation procedure without requiring any authorization from the user. In other words, if you just land on a site that runs the exploit in question, your PC could be infected with some unknown malware. It should be self-evident that Safeforsearch.net is not an application that can be considered trustworthy. Make sure to perform its complete removal without any hesitation if you value your overall virtual security.
The complete removal of Safeforsearch.net should not be delayed under any circumstances since keeping it active on your PC just for a short period could have devastating outcomes. Use the instructions that we present below to delete this browser hijacker entirely. It is critical to delete every single bit linked to it; otherwise, the undesirable change might remain intact due to active leftovers. To avoid all of that, we recommend double-checking your entire operating system for anything associated with Safeforsearch.net once as soon as you are done with the instructions that we present below. This way you will be sure that the termination procedure has been successful.
How to remove Safeforsearch.net from your PC
Open your File Explorer.
Navigate to C:\Users\[your username]\Local Settings\Application Data\Google\Chrome\User Data\Default\Extensions.
Right-click a folder entitled jikfnpnmfocoihnaadkpbofiildebcno and then select Delete.
Navigate to C:\Users\[your username]\AppData\Local\Google\Chrome\User Data\Default\Extensions.
Right-click a folder entitled jikfnpnmfocoihnaadkpbofiildebcno and then select Delete.
Navigate to C:\Users\User\AppData\Local\Google\Chrome\User Data\Default.
Select and remove files entitled Preferences, Secure Preferences and Web Data.
Right-click your Recycle Bin and then select Empty Recycle Bin.
In non-techie terms:
Malware researchers at our internal labs are aware of the fact that some users find manual removal too complicated. If you happen to be one of those users, do not worry. Below you will find an alternative removal guide. By using it you will be able to delete Safeforsearch.net and restore your browser's settings automatically.