Do you know what Safebrowsing.biz is?
If it happens that you ever notice that your default homepage and search engine have been changed to Safebrowsing.biz, it means that an irritating infection called a browser hijacker has found a way to enter your system. Unfortunately, it works on all the most popular browsers, including Internet Explorer, Mozilla Firefox, and Google Chrome, which shows that it is targeted at a wide range of people. Safebrowsing.biz does not seem to be dangerous at all, which explains why so many users do not even pay much attention to its presence. Of course, there are also users who want to see their preferred homepage and search engines. If you are one of them, we suggest getting rid of Safebrowsing.biz right now. Talking openly and honestly, it is a must to remove Safebrowsing.biz from browsers for the sake of the system's safety as well. Yes, your system might be put in danger if you ignore what we say and use Safebrowsing.biz as your primary search tool. Further in this article you will find out why it is so important to set another search engine instead.
Researchers have immediately noticed that Safebrowsing.biz is very similar to your-home-page.net, houmpage.com, safesurfs.net, and trustedstart.net search engines. They are not very trustworthy, which suggests that Safebrowsing.biz cannot be fully trusted either. There are two reasons our specialists do not recommend keeping and using Safebrowsing.biz as the primary search tool. First of all, this search engine might present users with untrustworthy search results even though it is based on Yahoo!. Do not worry; you can trust Yahoo! when it is not used and modified by a browser hijacker. Unfortunately, Safebrowsing.biz not only displays search results that might expose to potential threats, but also gathers information about users. Unfortunately, it is impossible to access its Privacy Policy; however, our team of specialists is sure that this questionable search engine also gathers personal details next to those that are called non-personal. Of course, it does not record such important information as banking credentials or passwords; however, we are sure that it will know your name, email, and, probably, even your approximate location based on the address of the Internet service provider. Believe us; these details might still be sold to third parties or used for devious plans, so you should stop Safebrowsing.biz as soon as possible even though it seems that it records unimportant information. Unfortunately, it will not be very easy to make this browser hijacker disappear because it has already modified the shortcuts of all your browsers. In other words, it has added http://Safebrowsing.biz next to the original Target line (C:\Program Files (x86)\Mozilla Firefox\firefox.exe). Do not worry; it is not that hard to change this line manually. Besides, we are going to help you with that.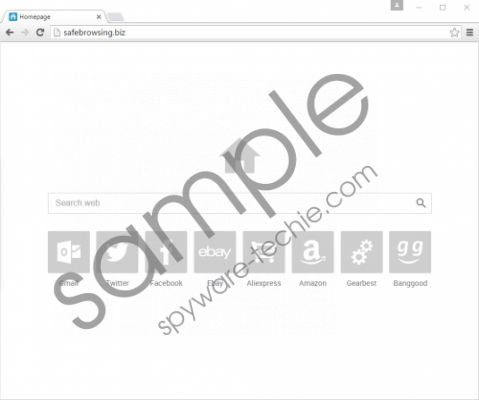 Safebrowsing.biz screenshot
Scroll down for full removal instructions
Even though Safebrowsing.biz is not a very prevalent browser hijacker, it has been found that it is spread like other existing hijackers, i.e. it usually travels in bundles with other applications that are not associated with it in any way. These programs are usually various free applications that users are offered to download from file-sharing or torrent websites. Of course, there is a slight possibility that this browser hijacker can find another way to sneak onto the computer as well, so users who do not wish to allow another similar infection to sneak onto their computers need to install reliable security software. If you keep it enabled on your computer day after day, you will not encounter any other infection again.
In order to be able to erase Safebrowsing.biz from your browsers, you, first of all, will have to modify the shortcuts of your browsers manually and only then reset browsers to their default settings one by one. If you find it too difficult to eliminate the browser hijacker from your system, use SpyHunter, which is a trustworthy antimalware scanner. It will clean your system quickly, and you will not need to do anything except to launch the scanner.
Remove Safebrowsing.biz
Fix the shortcuts of your browsers
Right-click on the shortcut of your browser.
Open Properties.
Click on the Shortcut tab.
Delete http://Safebrowsing.biz that goes after the quotation marks.
Click Apply.
Click OK to close the window.
Reset your browsers
Internet Explorer
Open your browser.
Tap Alt+T.
Select Internet Options.
Click on the Advanced tab and click Reset.
Mark the box next to Delete personal settings.
Click Reset again.
Google Chrome
Open your browser.
Tap Alt+F and select Settings.
Scroll down to Show advanced settings.
Click Reset settings.
Click on the Reset button.
Mozilla Firefox
Open your browser and tap Alt+H.
Select Troubleshooting information.
Click Refresh Firefox.
Click on the Refresh Firefox button once again.
In non-techie terms:
Unfortunately, browser hijackers often enter systems together with a bunch of other undesirable programs, so our security experts highly recommend that you scan your computer with a reliable scanner to delete these remaining threats. You can use a diagnostic scanner that can be downloaded from our website as well to find all the existing threats. After it detects infections, you could remove them manually yourself if you know how to do that.