Do you know what Safebrowsesearch.com is?
Safebrowsesearch.com is as far from a safe search engine as it gets. Not only is it an unreliable search engine, but it is also known as a browser hijacker. Therefore, it is suggested that you remove it from your browser as soon as possible as it can easily compromise your computer's security. The fact of the matter is that Safebrowsesearch.com is set to change your browser's homepage to its address without your knowledge or approval. Also, its search results are bound to feature advertising and promotional links that come from unknown questionable sources. In this short description we will discuss how this browser hijacker is distributed, how it works, and how you can remove it, so we invite you to continue reading.
Browser hijackers are a very common type of malware that you can easily get by downloading malicious software bundles from shady websites. Furthermore, you can get this browser hijacker if your computer has installed adware programs because adware can promote direct download links of a malicious software bundle that contains Safebrowsesearch.com. This particular browser hijacker is directly injected into the browser during the installation of a malicious software bundle, so it has no need for a dedicated program to manage the hijacking process. So on the whole, this search engine is distributed suing deceptive techniques, and therefore, should not be trusted.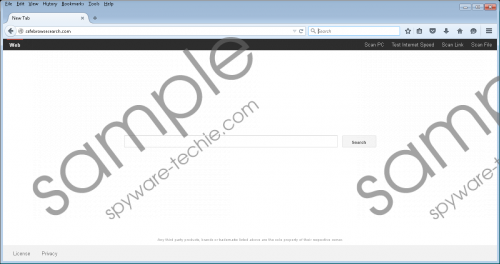 Safebrowsesearch.com screenshot
Scroll down for full removal instructions
This browser hijacker is a product of Imali Media Ltd., a known malware developer that currently focuses on releasing browser hijackers. Nevertheless, this shady developer has also released an unreliable browser called Internet Quick Access that we had to classify as a potentially unwanted program. This browser features a custom search engine and homepage that like Safebrowsesearch.com and other browser hijackers include promotional links since the main purpose of a browser hijacker is to redirect web traffic and generate advertising revenue. Now that we know where this hijacker comes from and how it is distributed, we can talk about how it works in greater detail.
As mentioned, Safebrowsesearch.com's main purpose is to redirect web traffic and generate advertising revenue. This is clearly outlined in its end-user license agreement, which states that "Imalimedia may, at its own discretion and for its causes, include within the Website any links to third party websites, advertisements or links for applications ("Third Party Content")." It is rather obvious that the content that is promoted by this search engine/browser hijacker may be unreliable since its developer claims not to be liable for third-party content, content that it is obliged to promote to earn money. Also, Safebrowsesearch.com features links on its main page. Our malware researchers have found that the Scan PC link redirects to a website called Winfixprofessionals.com which is known to be malicious.
If your browser's homepage was changed to Safebrowsesearch.com, then we recommend that you get rid of it as soon as possible, because it can expose you to malicious content that in turn can compromise your system's security. So if you want to avoid the inconvenience of dealing with things such as adware or even Trojans, then please use our removal guide to delete Safebrowsesearch.com for good.
Safebrowsesearch.com removal instructions
Mozilla Firefox
Press Alt+T and click Options.
Enter a new homepage address.
Done.
Google Chrome
Press Alt+F and go to Settings.
Click Set pages and enter a new homepage address.
Click OK.
Done.
Microsoft Internet Explorer
Press Alt+T and click Internet Options.
Enter a new homepage address.
Click Apply.
Click OK.
Done.
In non-techie terms:
Safebrowsesearch.com is a shady search engine that is known o include promotional links and advertising inside its search results to make its developers money. Our researchers have classified this search engine as a browser hijacker as it is automatically set as your browser's homepage without your approval. All in all, be sure to remove it promptly.