Do you know what Safe-web.tk is?
You might be redirected to Safe-web.tk, bingoweb.ga, uppersearch.tk, fast-search.tk, and see-hub.tk domains if Globasearh.com ever replaces your homepage and search engine. Safe-web.tk is the focus of this article, and it looks quite a decent page at first sight; however, the truth is that it is not that reliable. Our security experts believe that there are hundreds of other more trustworthy websites, so the best would be to set another one instead of Globasearch.com. If you do that, you will not be redirected to Safe-web.tk ever again. To find out how to do that, read this article thoroughly. Then, follow the manual removal instructions which you will find below this article step by step.
As Globasearch.com, which causes redirections to Safe-web.tk, usually sets itself on Internet Explorer, Google Chrome, and Mozilla Firefox, you will notice Safe-web.tk on all these browsers. At first, you might think that it is nothing wrong to be taken to this web page because it looks trustworthy. It leads to Wikipedia, Yahoo, Bing, and YouTube, allows users to search for images separately, enables them to add the most favorite websites in one place, and even lets them save search results. Last but not least, users can customize this web page, e.g. change the color of the background.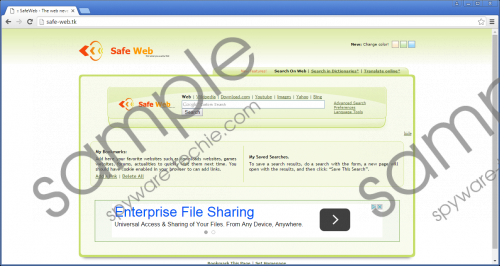 Safe-web.tk screenshot
Scroll down for full removal instructions
Unfortunately, Safe-web.tk contains advertisements too. You will see them on the main page. Luckily, it should not show sponsored search results because it uses Google custom search engine; however, you still have to be careful with ads you see on the start page of Safe-web.tk. It is not advisable to click on any of them for one main reason – they might redirect to unreliable third-party web pages. Unfortunately, there is a small possibility that this webpage will gather information about users too in order to show ads based on their interests too. The automatically-collected information includes URLs users visited, IP addresses, the type and language of browsers, country, and date and time of requests. On top of that, it is also said in the Privacy Policy that the user's name, address, telephone number, and similar details might be collected using cookies. If you wish to put an end to this, delete Globasearch.com and set another homepage and search engine. This is the only way to stop redirections to Safe-web.tk.
Specialists have managed to find out that Globasearch.com is very popular in Algeria, Egypt, Thailand, Saudi Arabia, and other countries. We are sure that nobody sets this web page themselves because research has shown that Globasearch.com is usually "packed" in malicious software installers. Specialists say that these installers usually connect to the following servers:
extrahosted.com
directhosted.org
softdistribute.com
thefilehost.org
There is a possibility that other untrustworthy programs might enter the system together with Globasearch.com. These are adware, browser hijackers, potentially unwanted programs, and other threats. If you already see this web page on your browsers, it is very likely that all these programs have been installed on the system too. Make sure that you do not leave these untrustworthy programs installed on your system.
You can remove Globasearch.com and thus stop redirections to Safe-web.tk by resetting your browsers one by one. Unfortunately, it is impossible to erase it via Control Panel, but we are sure that you will not face any difficulties if you use our removal instructions. Of course, there is a quicker way to remove this questionable web page too. All you need to do is to scan your system with a reliable antimalware scanner, such as SpyHunter. The best thing about automatic tools is that they erase ALL the existing infections. In other words, users simply have to launch the scanner if they want to clean their systems.
Delete Safe-web.tk
Internet Explorer
Open your browser and tap Alt+T.
Select Internet Options.
Click on the Advanced tab.
Select Reset.
Check the Delete personal settings box.
Click Reset.
Mozilla Firefox
Open your browser and tap Alt+H.
Click Troubleshooting information and click Refresh Firefox.
Click the Refresh Firefox button again.
Google Chrome
Open your browser and tap Alt+F.
Select Settings.
Click Show advanced settings.
Click Reset settings.
Click Reset.
In non-techie terms:
Believe us; you might encounter other untrustworthy web pages in the future too. Luckily, there is a way to protect the system from harm. First of all, install security software and enable it. Secondly, do not download programs from untrustworthy web pages because untrustworthy pages like Globasearch.com are usually set on browsers or people agree with those changes during the installation.