Do you know what Safe.scanpc.online is?
You have to be very cautious about the security notifications and advertisements introduced to you via Safe.scanpc.online. This domain could flood you with misleading warnings indicating that malicious threats have been detected or that your operating system is experiencing other issues. Random advertisements could be delivered as well. According to our malware research team, you could be redirected to pages representing the fake alerts by malicious threats, and adware (advertising-supported software) could be used to introduce you to pop-ups served from this domain. Whatever the case might be, it is possible that your operating system is infected with malware that requires immediate removal. If you ignore the fact that your PC might be infected with dangerous threats, your virtual security could be attacked before you know it. We strongly recommend deleting Safe.scanpc.online-related threats, and if you do not know how to do that, keep reading.
At the time of research, Safe.scanpc.online was down, but we cannot guarantee that this domain will stay down or if it will not reemerge in a different shape. Based on the information we have gathered, this domain was previously used for the promotion of unfamiliar PC repair tools. Whether you were introduced to flashy banner warnings or intrusive pop-ups, hopefully, you have not installed any unfamiliar programs. If you have done this, you must immediately check these programs out. Do some research and install a reputable malware scanner to inspect your operating system and identify threats. In case you have been tricked into paying money for the services provided by malware, you should try to get your money back as soon as possible. It is unlikely that you will retrieve your money from cyber criminals, but maybe your bank will help you with that. Overall, if you find out that you need to delete malicious infections that are responsible for delivering ads or alerts via Safe.scanpc.online, you need to act fast.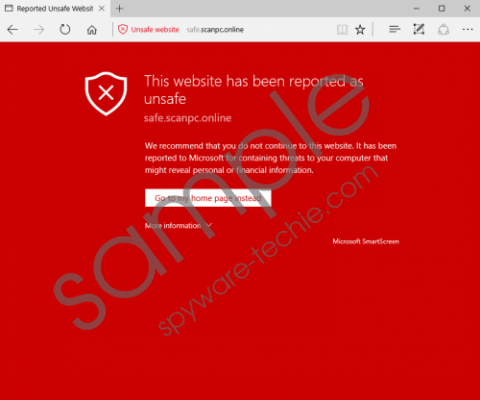 Safe.scanpc.online screenshot
Scroll down for full removal instructions
According to our malware experts, the alerts represented via Safe.scanpc.online can be very misleading. While it is unlikely that you will panic if you see a pop-up promoting an unfamiliar security program, you might panic if you are introduced to a flashing alert warning you about serious issues. Some of these alerts could display allegedly reliable helpline numbers. If that happens, the first thing you must do is cross-check this number. If you discover that it is bogus, the only thing you need to focus on is the removal of malware that has introduced you to this notification. If you cannot find any useful information, we recommend employing a more reputable and trustworthy malware scanner to inspect your operating system and confirm or deny the existence of malware. Overall, you have to be extremely cautious about the alerts that you face because they could be linked to the unreliable Safe.scanpc.online.
The best thing you can do for your virtual security is to install a trustworthy anti-malware tool. It will automatically remove Safe.scanpc.online-related threats, and no unreliable pop-ups will bother you again. More importantly, anti-malware software can ensure that your operating system is reliably protected against malicious threats in the future, and that is an important thing to think about. If you want to erase malware manually, you need to inspect your PC first – we recommend using a legitimate malware scanner – to figure out what exactly it is that you need to delete. For example, if you find that you only need to uninstall unwanted programs, you will find the guide below useful. Keep in mind that this is not a solution in all cases. You need to inspect your operating system first to understand what it needs.
How to uninstall undesirable software
Windows 10/Windows 8/Windows 7/Windows Vista
Launch RUN by simultaneously tapping the Win+R keys.
Enter Control Panel into the dialog box and click OK.
Move to the Uninstall a program menu.
Right-click and then Uninstall the undesirable program.
Windows XP
Navigate to the left of the Taskbar and click Start.
Open the Control Panel menu for more options.
Double-click the Add or Remove Programs icon.
Identify the unwanted app, click it, and choose Remove.
In non-techie terms:
Safe.scanpc.online might be used for the introduction of unreliable alerts, warnings, and offers. If you face suspicious pop-ups pushing you to scan your PC, install software, call online technicians, or do other suspicious things, you need to take a step back and think if or not you are dealing with malware. It is easiest to clean your operating system using legitimate anti-malware software, but you might also be able to remove Safe.scanpc.online-associated malware yourself. If this is the path you choose, do not forget to install a malware scanner to find out which threats you might be dealing with.