Do you know what Safe Browsing is?
Safe Browsing is an application that will do the opposite of what its name suggests, since it is an adware-type grogram, and as such our researchers recommend that you remove it. This program will subject you to unreliable content and collect information about you. Surely none of us would want that to happen. Therefore, we have gathered as much information about this application as possible. So, if you have this program or you are just interested in knowing more about adware, we invite you to read the article.
Unfortunately we could not identify the developers of this program. There is not information about a company called Safe Browsing 1 Ltd. to be found. We speculate that the name if fictitious, a made up name that only serves to give the application an image of legitimacy. At any rate, the application is promoted at Safe1browsing.net. The webpage looks reminiscent of a typical adware promoting website. Advertising slogans, short introductory sentences, fake certification emblems, and a fake download button are all there. So, how can your computer become infected with reminiscent?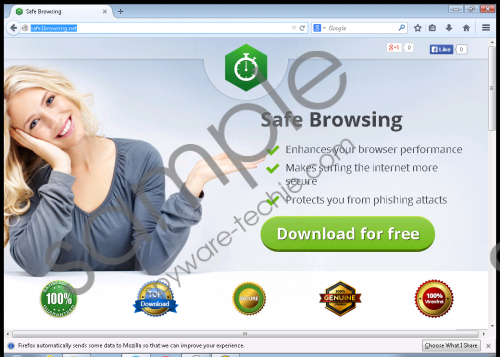 Safe Browsing screenshot
Scroll down for full removal instructions
The infection's developers use a marketing technique called bundling. Bundling is very effective when it comes to distributing malicious software, because many people to not choose custom settings that can offer the opportunity to remove the installation of unwanted software. Safe Browsing is based on the Dealply platform (for more information visit Dealply.com), which has been created specifically for adware applications. There are plenty of applications that are similar to Safe Browsing. WebEnhance and Webcheck are just a few examples. Usually, users rush through the installation of software bundles without even thinking about the unpleasant consequences that await them. So, let us discuss how the application works.
Once installed, Safe Browsing will bombard you with commercial advertisements in the form of coupons, pop-ups, banners, and so on. The ads can be displayed on any website, but we found that the ads usually appear on online shopping websites, such as Amazon.com. However, it is claimed that the application will enhance your browsing performance and protect your privacy. The fact of the matter is that it will not do any of these things, as it only shows advertisements. As usual, the ads are supplied by unreliable entities who want to make money. But, we warn you that the content is likely to be misleading. You might not get the product for the price you were expecting so pay close attention while you are shopping, or better yet get an antimalware scanner that is able to automatically remove malicious software.
As you can see, Safe Browsing is not what the advertisements and slogans claim it to be. It is just another infection that will cause you inconvenience and in the worst case scenario will serve as a vehicle for far more dangerous infections. Therefore, we suggest removing Safe Browsing using our manual removal guide. But it would also be a good idea to get a program that would protect your PC from malicious content.
Remove Safe Browsing from the OS
Windows 8 & Window 8.1
On your keyboard press the Windows key + X.
Open the Control Panel, and click Uninstall a program.
Find Safe Browsing, and right-click on it.
Click Uninstall.
Windows Vista & Windows 7
Open the Start menu.
Click Control Panel.
Select Uninstall a program.
Find Safe Browsing, and right-click on it.
Uninstall the infection.
Windows XP
Open the Start menu.
Click Control Panel.
Select Add or Remove Programs.
Find Safe Browsing, and click Remove.
In non-techie terms:
Safe Browsing is a malicious program that shown unreliable advertisements. Our researchers warn that the application is likely to be a source of infection, because the reliability of the ads cannot be verified. The ads are not provided by the retailers themselves, but rather by shady wannabe advertisers. So, do yourself a favor, remove Safe Browsing, and get yourself a antimalware scanner, such as SpyHunter that will get of the infection for you and protect your PC from any threat.