Do you know what Sadooma is?
Our malware analysts have recently come across a browser extension for Chrome called Sadooma. They classified it as a potentially unwanted program because its primary functions is to replace the homepage and new tab page addresses of Google Chrome. Indeed, apart from performing this action, this browser extension does not do anything else. We do not consider it malicious, but you should remove it regardless because it is next to useless. Its aim is to force you to use its promoted search engine, but it does not feature promoted links that should generate revenue. Nevertheless, there is no reason you should keep it.
If you were to install Sadooma, then it will replace your browser's homepage and new tab page addresses with Search.sadooma.com. As you can see from the URL, the names of both the extension and search engine match, so it is clear that both of them come from the same developer. Apparently, Sadooma was created for distributing this search engine because it does not have any other notable features. Search.sadooma.com is an interesting example because it redirects all search queries to Google.com that shows modified search results. Nevertheless, the results do not feature promotional links or any kind of ads. Therefore, our researchers think that Search.sadooma.com should be safe, but you might not want to use it because it can be forced onto you and because its search results are modified and may not offer the best results.
It is worth mentioning that Search.sadooma.com can collect some anonymous information about you to customize the search results you get. According to our cyber security specialists, it might gather information that includes but may not be limited to your geographical location, Internet Protocol address, Internet Service Provider name, entered URLs, entered search queries, browser type, and operating system type. All of this information can be used for customizing the search results, but do not expect it to do as well as Google.com. Therefore, we advise against using this search engine altogether.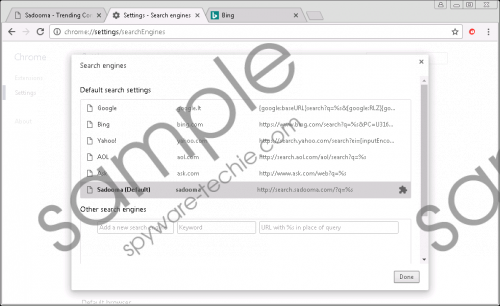 Sadooma screenshot
Scroll down for full removal instructions
Let us move on to the origins of Sadooma. Evidently, its primary distribution website at Sadooma.com does not feature any information about the company that created it. All it provides the users with is the mailing address based in New York, New York, USA. Our researchers have found that Sadooma's code is similar of that of Baboom which is an adware-type program developed by Linkury, a company known for developing malicious ad-supported programs such as Snap Do and Smartbar. It is clear as day that Sadooma comes from a highly unreliable source, so keeping it on your PC is not recommended.
As mentioned, you can download this browser extension from Sadooma.com, its main distribution site. However, our malware analysts have discovered that this program is also distributed via malicious software bundles that can install it secretly and might not allow you to deselect its installation in custom/advanced installation settings. Furthermore, researchers say that it is possible that some shady websites might promote this browser extension using pop-up ads that redirect to Sadooma's main website.
In closing, Sadooma is a potentially unwanted program that does nothing but change your browser's homepage address in an effort to make you use it for searching the web. However, Search.sadooma.com does not seem to feature shady promotional links or any links at all for that matter. Still, since both Search.sadooma.com and this browser extension come from an unreliable source. We suggest that you remove them from your browser as soon as you can.
How to remove Sadooma
Launch Google Chrome.
Press Alt+F.
Select More tools.
Click Extensions.
Locate Sadooma.
Click the Remove button.
In non-techie terms:
Sadooma is a browser extension that was classified as a potentially unwanted program because it was designed to replace your browser's homepage and new tab address. Apart from that, it does nothing at all. While its search engine shows modified search results, but without ads, so the results should not be malicious. Whatever the case may be, you ought to remove Sadooma to ensure your computer's security.