Do you know what Rush Ransomware is?
Whether you find a notification from Rush Ransomware or Sanction Ransomware, both of which are very similar if not identical, you are in trouble. These malicious ransomware infections are very aggressive, and they can demand a fortune from you in return of your personal files. Although this malware cannot lift your personal files and hide them until you pay the ransom, they use an encryption method to make them useless. The ransomware detects the files with certain extensions (the extensions of files that represent documents, photos, videos, and other personal files) and encrypts them using a key. Simultaneously, a decryption key is created, but it is sent to a remote server and kept safe until you pay the ransom, which, in this case, you need to do within 7 days. Are you ready to delete Rush Ransomware from your PC? Read this report first top learn more about this infection.
It is difficult to say how Rush Ransomware has entered your operating system because cyber criminals often use different techniques to spread malware. Of course, if we look at the tendencies of ransomware infections, our best guess is that this malicious threat has been launched as you opened an attachment to a spam email. Unfortunately, cyber criminals often use different tactics to spread their infections faster and wider. Due to this, it is crucial to reinforce your operating system with reliable security software. If you do not use this software, the malicious threat will be executed without your notice and your personal files will be encrypted. According to our research, Rush Ransomware targets the files with these extensions: .txt, .docx, .xls, .xlsx, .ppt, .pptx, .odt, .jpg, .png., pdf, .doc, .csv, .sql, .mdb, sln, .php, .asp, .aspx, .html, and .xml. These are the extensions of files that you cannot replace, unless you have them stored in an external drive or using online storage systems (e.g., Google Drive or Dropbox). All files encrypted by this infection are followed by an HTML file called "DECRYPT_YOUR_FILES.html" that explains what is happening and what is expected from you. If you remove the ransomware and eliminate the HTML files, you might lose your chance to decrypt your files, which is why you should not rush into doing that.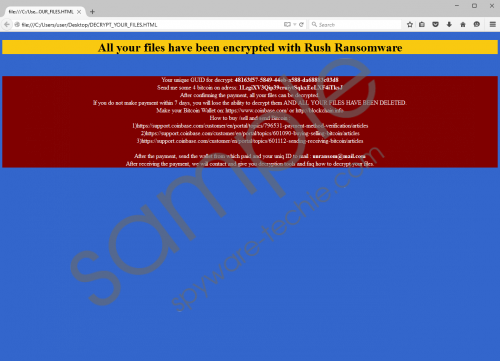 Rush Ransomware screenshot
Scroll down for full removal instructions
The DECRYPT_YOUR_FILES.html file provides you with the so-called GUID and a unique address to which you need to send the ransom. Both of these look like jumbles of random letters and numbers. If you get rid of the ransomware, the files associated it, you will lose these codes, which means that you will no longer be able to pay the ransom. Considering that this ransom is 8 Bitcoins which, at the moment, is $1661, it would be surprising to see computer users paying it. Then again, it is stated that all of your files will be removed without a chance of restoring them if you do not pay the ransom within the given time. The information stored within the file also provides links to websites that you are urged to visit to set up a Bitcoin Wallet. The sites promoted by the ransomware include blockchain.info and coinbase.com. unransom@mail.com is the email that you supposedly need to use to contact the developer of Rush Ransomware to provide the necessary information (the GUID, the address, and the Bitcoin wallet).
If you do not know how to keep your operating system clean or how to get rid of malware, it is a good idea to implement software designed to take care of this automatically. Reliable anti-malware software can eliminate all threats and ensure that they cannot attack in the future, and that is exactly what you need to be looking at. Even if you choose to remove Rush Ransomware manually using the instructions below, you need to make sure that you implement security software to ensure full-time protection.
Delete Rush Ransomware from Windows
Tap Win+E keys simultaneously to access Explorer.
Type %ALLUSERSPROFILE%\Start Menu\Programs\ into the address bar and tap Enter.
Right-click the DECRYPT_YOUR_FILES.html file and select Delete.
Repeat the step 3 in all of these directories:

%WINDIR%\System32\Tasks\
%WINDIR%\Tasks\
%APPDATA%\Microsoft\Windows\Start Menu\Programs\
%USERPROFILE%\Microsoft\Windows\Start Menu\Programs\
%ALLUSERSPROFILE%\Microsoft\Windows\Start Menu\Programs\
%ALLUSERSPROFILE%\Application Data\Microsoft\Windows\Start Menu\Programs\
In non-techie terms:
Rush Ransomware is a scary infection that can paralyze your personal files and demand a ransom from you. Whether or not your files would be decrypted if you paid the ransom is a mystery, but we do not advise trusting the promises of cyber criminals blindly. You need to consider losing your files, unless you are willing to risk it and pay the incredible ransom (4 BTC). In either case, you MUST remove the ransomware, and you can use the guide shown above. Afterward, eliminate all corrupted files as well. If you pay the ransomware, follow the same guide to eliminate this threat from your PC.