Do you know what Runbooster is?
If your browsing experience is ruined by the constant flow of annoying third-party ads, it is possible that Runbooster has managed to find a way to sneak onto your system. Our researchers have categorized this threat as a Trojan program. It is possible that this malware infection does not always show you ads but instead stays silent in the background while using your system resources and spying on you. In any case, having this threat on board is definitely not a good sign and you should act right away to stop any further system security-related issues. In other words, we suggest that you remove Runbooster from your computer as soon as possible along with all other possible malware threats. But before you set out to clean your system, we would like to tell you more about this Trojan and how you may have infected your PC with it so that you be able to protect it from future attacks.
This malware infection may infect your system behind your back while you are installing a bad downloader or any other suspicious files you have downloaded from questionable torrent and freeware sites. While you may believe that you would never visit shady websites or download questionable software bundles, let us tell you how it is still possible. For example, you are searching the web for a free file to download, let it be a movie, a book, some music, or software. However, you do not know any file-sharing websites really; therefore, you will just click on any link on the first results page that comes up and seems to have your targeted file. Unfortunately, what you may not be aware of is that there could be a number of fake and malicious file-sharing websites among the search results. These sites may come up even when you use a totally reputable search engine, such as Google and Yahoo.
When you land on a fake torrent or freeware page, you may not realize but there could be a number of "traps" in the form of third-party advertisements. If, for instance, you were to click on any fake alert about an urgent plugin or software update, or a fake download button, you could easily infect your system with a bundle containing this Trojan as well as ad-supported applications, browser hijackers, fake alerts, and potentially unwanted programs. Letting such a "colorful" company of malware threats on board could seriously increase the vulnerability of your computer. Therefore, you should stay away from questionable websites and clicking on random third-party ads. Unfortunately, it is also possible that your computer was already infected with adware before you let this threat on board and you clicked on a corrupt third-party ad generated by this older infection on board. No wonder why we emphasize that you scan your system with a proper malware scanner, it can be a free online scanner you can trust, and detect all possible malware threats right after you delete Runbooster from your PC.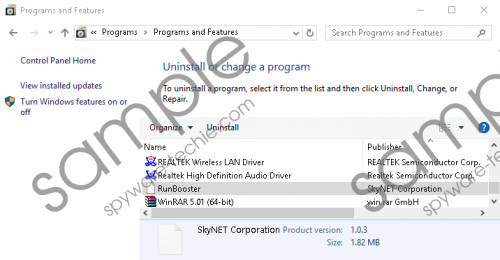 Runbooster screenshot
Scroll down for full removal instructions
This Trojan program is indeed an online advertising platform that may display an annoying number of fake advertisements, best deals, coupons, and sponsored links while you are browsing the web. Apart from these, this infection may also steal your system resources and gather information about you, which could be called spying, too. What many users only see as innocent commercials, though, could be risky traps, as a matter of fact. These third-party ads may appear to you to be best deals and sponsored links, you should know that since this Trojan may know a thing or two about your browsing habits, it can present you with seemingly relevant ads. This is how you may have the feeling of "oh my god, this is exactly what I have been looking for and now this product is available at an insanely cheap price" or something similar. Then, you click to get your target product.
Unfortunately, chances are that you will land on a fake online shop site, which may look totally convincing and authentic to you. However, once you enter your banking details, you will only share your data and money with cyber criminals instead of getting anything in return; well, apart from the sudden shock when you realize that you have been scammed. Another possibility is that by clicking on unreliable ads coming from this malware, you may directly drop further infections or open new tabs and new windows with other malicious content. All in all, we suggest that you do not wait too long before you strike down and remove Runbooster.
There are two possible ways for you to eliminate this annoying Trojan infection. There is a version out there that may actually have a working uninstaller you could locate in your list of installed programs in Control Panel. If in your case you can find this uninstaller, simply run it to get rid of this infection. If you are not familiar with uninstalling applications, you can follow our instructions below (see Option 1). However, if you do not have one or you want to manually delete Runbooster from your computer, you can use our instructions below (see Option 2). In order to defend your system efficiently, we advise you to download and install a powerful anti-malware tool, such as SpyHunter, as soon as possible.
How to remove Runbooster from Windows (Option 1)
Windows XP
Click the Start button and go to Control Panel.
Select Add or Remove Programs.
Click on the application and press Remove.
Windows Vista/Windows 7
Open the Start menu and select Control Panel.
Pick Uninstall a program.
Click on the application and press Uninstall.
Windows 8/Windows 8.1/Windows 10
Press Win+R and type in Control Panel. Click OK.
Select Uninstall a program.
Click on the application and press Uninstall.
How to remove Runbooster from Windows (Option 2)
Press Win+E.
Locate and delete the following folders:
%PROGRAMFILES%\RunBooster
%PROGRAMFILES(x86)%\RunBooster
Locate and delete the task named "RunBoosterUpdateTask" in the "%WINDIR%\System32\Tasks" folder.
Empty your Recycle Bin.
In non-techie terms:
Runbooster is a Trojan malware infection that may slither onto your computer without your noticing it. This Trojan program may steal your system resources, your personal information as well as act as an adware helper and display annoying and potentially unreliable third-party ads while you are surfing the web. Since this infection rarely comes alone, it is quite possible that you will find other malware programs on board, too. If you do not want to be exposed to cyber criminals, lose important data, or end up scammed by crooks, we recommend that you act now and remove Runbooster from your PC. It is possible that manual removal is out of the question for you for some reason; thus, we advise you to use a trustworthy anti-malware program.