Do you know what RoyalCoupon is?
If you are presented with numerous commercial adverts and coupons, it is very likely that your operating system is running an adware application known as RoyalCoupon. This particular application is advertised at royalcoupon.info. The promises made on the website are, unfortunately, quite misleading. You are promised to be presented with useful deals from various online vendors. Yes, you will be presented with numerous comparison deals, coupons, and pop-ups but they will not be useful at all knowing the fact that often adware applications are associated with malware distribution. Removal of RoyalCoupon is essential in order to secure your system and restore browser functionality back to normal. Researchers at Spyware-Techie.com have put up a comprehensive removal guide that you should use.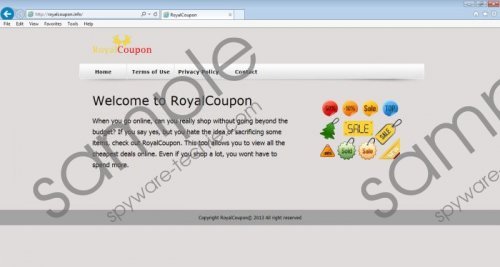 RoyalCoupon screenshot
Scroll down for full removal instructions
It was discovered that RoyalCoupon is mostly distributed via bundled installers. Mostly, it is the IntallRex installer that is carrying the infection (although Amonetize and Vittalia installers are also sometimes responsible for the installation of RoyalCoupon). It is widely known that these installers are mostly distributed in fake or malicious download websites. Quite a few torrent websites host these setup files as well. Avoiding dubious websites for software downloads is crucial. Moreover, you are recommended to install a trustworthy antimalware tool in order to secure your system to the fullest.
RoyalCoupon adware is based on JustPlugIt engine. Many other adware applications are based on it as well; the list would include: DealEXpress, DiscouNNtExtensi, CoupExtension, Shopcompare ads, etc. RoyalCoupon is very similar to the applications mentioned and works in basically the same manner. It will install extensions to browsers (Mozilla Firefox, Internet Explorer, and Google Chrome) without your knowledge. These extensions will be used in order to display you with various third-party adverts and pop-ups.
In the privacy policy section of their website, the publishers of RoyalCoupon state that certain information about you will be tracked and shared with various third parties. What is quite suspicious about it is that the publishers do not specify what that certain information is. Furthermore, it is unclear who these so-called third-party associates are, which will be receiving the information. Since the publishers of RoyalCoupon do not bother to review the legitimacy of their associates; thus, it is plausible that the information gathered could end up in the hands of cybercriminals. The consequences of that could be quite detrimental. Avoid getting your sensitive data exposed by conducting an extensivet RoyalCoupon removal.
We recommend that you follow the removal instructions provided below to get rid of RoyalCoupon. It is important to recheck your system for any potential leftovers of the infection afterwards. In some cases, it was noticed that RoyalCoupon is able to connect to the Internet without your permission. It might signify that, if only a few files or a certain registry value is still present on your PC, the adware application could be able to re-download itself automatically.
How to remove RoyalCoupon from your PC
Remove RoyalCoupon from Windows 8
Access the Metro UI menu.
Then right-click on the background and select All apps.
Locate and select Control Panel.
Then click Uninstall a program.
Select RoyalCoupon and click Uninstall.
Remove RoyalCoupon from Windows 7 and Windows Vista
Tap the Widows+R keys simultaneously.
Then type Control Panel in the command line and tap Enter.
Select Uninstall a program.
Double-click RoyalCoupon to uninstall it.
Remove RoyalCoupon from Windows XP
Click the Start button.
Select Control Panel and the Add or Remove Programs.
Now select and remove RoyalCoupon.
How to remove RoyalCoupon extensions from browsers
Remove the Royal Coupon extension from Mozilla Firefox
Open your browser and the tap Alt+T
Click Add-ons.
Then select Extensions.
Now select RoyalCoupon extension and click Remove
Remove RoyalCoupon from Google Chrome
Open your browser and the tap Alt+F.
Select Settings.
Then click Extensions.
Click the trash can icon the RoyalCoupons extension.
In non-techie terms:
If you doubt whether you will be able to recheck your operating system for traces of RoyalCoupon manually, we recommend installing a powerful antimalware program for that. If you wish to remove RoyalCoupon automatically please follow the instructions below.