Do you know what RopeInSavings is?
RopeInSavings is one more adware program that is advertised as a misleading way to trick naïve Internet users into downloading and installing it. On its official website, this application is marketed as a tool that will provide you with the best discount deals and coupons while you are shopping online, meaning that it should help you save time and money. While it sounds like a great tool to have, in reality it does not do that very well. In fact, this adware is only capable of causing major disturbances while you are browsing the web. If you are a frequent online shopper, you should know that RopeInSavings will in no way improve your online shopping experience; thus, you are advised to stay away from it at all times. Below we provide a detailed removal guide, crafted by our research team, which is easy to use and will help you delete this adware in no time.
If you are a security conscious user and wish to keep your operating system clean and secure at all times, it is imperative to improve your virtual security in order to reduce the risk of getting your PC infected. It is crucial to learn as much as possible about the program that you wish to install before even downloading it. This is advised since programs other than RopeInSavings are known to use devious marketing strategies. Additionally, it is known that RopeInSavings and quite a few other adware programs are distributed via bundled installers. You can avoid such installers by downloading your software only from official vendor's websites since various third-party download sites are known to be the primary source of installers filled with different unwanted programs. Besides these safe browsing practises, the most important thing to boost your virtual security is a professional antimalware tool. Do not hesitate to install such a tool if you do not have one already, as it is your best bet to keeping your operating system free of any suspicious or even potentially malicious applications.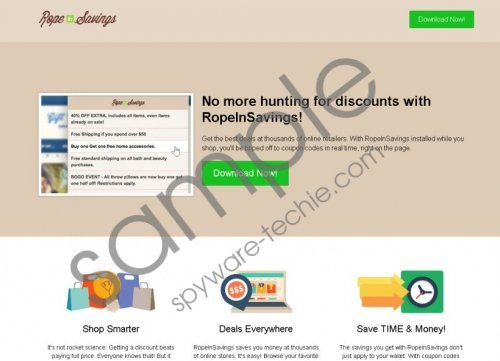 RopeInSavings screenshot
Scroll down for full removal instructions
The functionality of RopeInSavings does not differ all that much from other adware programs that we have analyzed. As soon as this adware program gains access to your operating, system it will implement a malicious browser extension. This extension is used to contact various adware servers in order to provide the unwanted third-party web content. In the majority of cases, all of this suspicious web content is presented in various third-party commercial ads and numerous annoying pop-ups. It goes without saying that a flooded browser with such web content will make browsing the web so much harder. This is because since you will be forced to fight your way through all of those annoying ads and pop-ups. In fact, all of this intrusive activity will make browsing the web the way you are used to virtually impossible. If you wish to stop this intrusive activity, you will need to remove RopeInSavings from your operating system completely.
While the removal is rather simple since you can delete RopeInSavings via Control Panel, you are still advised to conduct an analysis of your operating system to be sure that every bit of this adware was removed from your operating system. We strongly advise you to check your registry system since in quite a few cases some registry entries associated with RopeInSavings could still be active. This is quite dangerous because even a few registry entries or files could be used to restore this adware without any notification.
How to delete RopeInSavings from your operating system
Instructions for users of Windows Vista and Windows 7
Click the Windows button and then go to Control Panel.
Click the Uninstall a program option.
Double-click RopeInSavings.
Confirm that you want to remove it.
Instructions for users of Windows XP
Click Start and select Control Panel.
Click Add or Remove Programs.
Select the unwanted program and click Remove.
Instructions for users of Windows 8
Move the mouse pointer to the lower-left corner of the screen.
Right-click and then select Control Panel.
Click Uninstall a program.
Right-click RopeInSavings and then select Uninstall.
In non-techie terms:
There a users who might find manual removal and analysis of their PC too complicated. If you are one of those users, do not worry since we provide an alternative removal guide. This guide will help you get rid of RopeInSavings in an automatic way.