Do you know what Rokku Ransomware is?
Rokku Ransomware is a really harmful infection that might sneak onto your computer without permission and make it impossible to access files stored on the computer. Actually, this is the major thing this ransomware infection does. It is not difficult to explain why it acts like that. Our specialists are sure that it simply seeks to extort money from computers users. Do not pay money to cyber criminals that hide behind this threat even though it seems that this is unavoidable. Instead of doing that, delete Rokku Ransomware from the system right now. You should definitely not keep it because it might lock your new files as well. In addition, it has been observed that this infection is capable of connecting to the Internet without permission, starting the moment Windows OS starts, and performing other undesirable activities on the user's system.
Rokku Ransomware uses the RSA-3072 encryption algorithm in order to encrypt all kinds of files and make it impossible to decrypt them easily. Researchers have observed that this ransomware infection will lock all the files stored on the system, including pictures, images, videos, and music. This threat will add the .rokku extension to each of these encrypted files, so you will not face any difficulties in recognizing which files are locked and which are not. What's more, Rokku Ransomware will create two files Readme.txt and Readme.html as well. Both these files contain the same text. If you open any of them, you will immediately notice the message "Your file has been locked." You will also find instructions there: users need to download and install Tor Browser and then copy and paste the given URL in the address bar. After doing that, they are instructed to follow the provided instructions. As we have suspected, users will be asked to pay a ransom if they wish to access their files again. At the time of writing, Rokku Ransomware is asking users to transfer 0.2408 BTC in exchange for the decryption tool; however, the sum might change during the time. Rokku Ransomware is also ready to decrypt one file for free in order to show the user that it is really capable of doing that. Even though the decryption tool works, it is not a must to pay money. It has been observed that you can easily restore files from a backup you have made before this ransomware infection slithered onto your PC. If you have never backed up your files, unfortunately, there is no other way to decrypt files than paying money.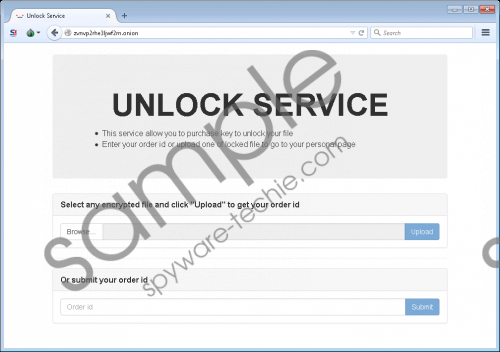 Rokku Ransomware screenshot
Scroll down for full removal instructions
There are hundreds of different ransomware infections, e.g. Rush/Sanction Ransomware, Better_call_saul Ransomware, and Hi Buddy Ransomware on the web and, unfortunately, they are quite prevalent these days. In most cases, they enter computers and do not ask for permission. In case of Rokku Ransomware, it enters rather secretly as well. It has been observed that this threat usually comes as the MS Office Word attachment in spam emails, which explains why so many users download this threat and get infected with Rokku Ransomware. Ransomware infections are very dangerous threats, so it is a must to install a security tool in order to protect the system from harm. Our security specialists also highly recommend that you never open a spam email again and stay away from unreliable web pages.
Ransomware is a very harmful threat, so it would be really naïve to expect to erase ransomware infections in the same way as other ordinary programs. Even though it is really hard to get rid of this threat, it is still possible to eliminate it manually. All you need to do is to follow our step by step instructions. If this threat does not disappear, scan your system with an automatic malware remover SpyHunter (its diagnostic version can be easily downloaded from our website). We are sure that it will make your system clean within seconds.
Delete Rokku Ransomware
Delete the malicious MS Office Word file or another untrustworthy file you have downloaded.
Open the Windows Explorer.
Enter %ALLUSERSPROFILE%\Windows or %ALLUSERSPROFILE%\Application Data\Windows, depending on the version of the Windows OS you have installed, in the address bar.
Find and delete the csrss.exe file.
Find and remove Readme.txt and Radme.html files from the Desktop and other directories.
Empty the recycle bin and reboot your PC.
In non-techie terms:
If you have deleted Rokku Ransomware in a manual way, it would still be clever to scan the system with an automatic scanner in order to find out whether you have erased all the components of this threat. In addition, it is a must to do that in order to detect other existing infections on the system. If the tool has really detected additional malware, take care of it as soon as possible as well.