Do you know what RocketTab is?
According to the official website at rockettab.com, RocketTab is a free application that enhances your web search function. It focuses on enhancing the local search by collecting content from such websites as Groupon, CityGrid, Yelp and so on. However, even if RocketTab might seem like a useful browser application, it still falls into the category of potentially unwanted applications, due to the fact that it collects information about your web browsing and online searches. It is not illegal, but any security-minded computer user should not let this information slip.
During the installation RocketTab says that it needs to collect the aforementioned data in order to present relevant search results and advertisements. However, the advertisements are yet another reason why RocketTab is also considered an adware application. Although the primary type of advertising used by RocketTab does not include pop-ups (only search ads on search engines), it may still expose you to potentially malicious content, and that is why it is important that you remove RocketTab from your computer immediately.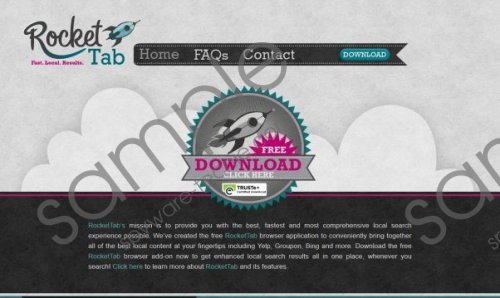 RocketTab screenshot
Scroll down for full removal instructions
You might be wondering why you are seeing various advertisements next to your search results, but you have not installed RocketTab on your own? The problem is that rockettab.com is not the only website where RocketTab's installation file is located. The application has other distribution method and that is bundled downloads. It means that it can arrive with other adware or free software applications that are available for download at third party hosting websites. Thus, you need to be extra careful when you install applications from unfamiliar sources – they might as well come with additional extensions you neither need nor want.
However, once RocketTab gets installed on your computer it automatically adds extensions to all main browsers, including Internet Explorer, Google Chrome and Mozilla Firefox. This extension collects various personally non-identifiable information, such what websites you visit, what you search for online and so on. RocketTab says that the information needs to be collected in order to ensure that you are provided with relevant commercial content, but the problem is that the application might also share the information collected with a third party for marketing purposes.
In the long run, RocketTab could become responsible for malware infection entering your computer, although it should be pointed out that it is not RocketTab's objective. The application can simply get exploited by malevolent third parties and in the end you could suffer a serious infection. Hence, it would be for the best to prevent it by removing RocketTab right now.
How to remove RocketTab
For Windows 8
Move mouse cursor across your screen to the bottom right corner.
When Charm bar appears click Settings and select Control Panel.
Go to Uninstall a program and remove RocketTab.
Windows Vista & Windows 7
Open Start menu and go to Control Panel.
Select Uninstall a program and remove RocketTab.
Windows XP
Open Start menu and click Control Panel.
Select Add or remove programs and uninstall RocketTab.
After manual removal you are strongly advised to scan your computer with SpyHunter free scanner, because there might be various unwanted residual files left, or even other potentially dangerous applications installed on the PC. Do all you can to ensure that your computer is safe.
In non-techie terms:
RocketTab is a program that gets installed on your browser. It displays various advertisements and other commercial content. It is not extremely dangerous, but due to the fact that it might get exploited for malware distribution, you should uninstall RocketTab from your PC right now.
Aliases: Rocket Tab.