Do you know what Robin Hood And Family Ransomware is?
If you know the story of Robin Hood, you should be utterly confused by the malicious Robin Hood And Family Ransomware. Instead of taking the money from the rich and the sordid and then giving it to the poor, the cyber criminals who have created this infection are trying to take money from completely innocent Windows users for their own gain. Needless to say, the names of ransomware infections are usually completely random and nonsensical, and so we should not really put that much thought into it. On top of that, there already is an infection called "RobinHood Ransomware," which proves that cyber crooks lack originality. As a matter of fact, we have to give it to the creators of this malware – they are pretty original in the way they operate, and you can learn all about that by reading this report. You can also learn how to delete Robin Hood And Family Ransomware, and the removal of this threat should be your priority.
Robin Hood And Family Ransomware might have slithered into your operating system without your notice, but there is a great chance that you have let it yourself by downloading malware in disguise, clicking corrupted links, or opening spam email attachments. The infection does not reveal itself right away. First, it goes on to delete your personal files. Yes, instead of encrypting them, it eradicates them. According to our research, the infection affects the files that are located on the Desktop, as well as in the Documents folder. The files are erased, and that means that recovering them is not possible. Of course, cyber criminals are telling a different story. According to them, the files were backed up, and now you have a chance to recover them if you agree to pay the ransom. The ransom is set at 0.1 Bitcoin. Bitcoin is a crypto-currency, and to obtain it, you need to set up a wallet and purchase bitcoins. At the time of our analysis, 0.1 Bitcoin was $876, but this number could be completely different when you are reading this.
The ransom is requested by Robin Hood And Family Ransomware via a file named "YOU ARE HACKED - READ ME.txt." This file is created on the Desktop to ensure that you see it right away. If you follow the steps listed in the ransom note, you will purchase 0.1 Bitcoin and send it to a Bitcoin wallet that belongs to the creator of the ransomware (to 1CncuQzDP86vEpS3un8R7BT2yiEgUCpkQg). Next, you will send a code that is represented via the note to robinhoodxxx007@tutanota.com. Although cyber crooks should make it possible for you to recover your files from an alleged backup after you do this, of course, this would not happen because a backup does not exist. Hopefully, your own personal backup exists, and you can easily access lost files there. If you are not in a situation where backups exist, there is nothing else you can do.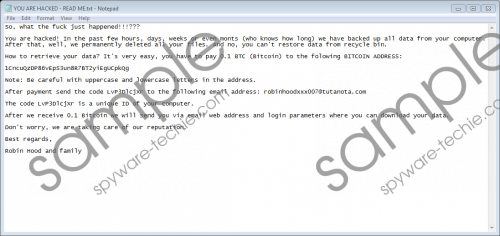 Robin Hood And Family Ransomware screenshot
Scroll down for full removal instructions
You must remove Robin Hood And Family Ransomware regardless of whether your files were lost for good or if you managed to restore them from your own backup (not the one allegedly created by cyber crooks). How you eliminate this malicious infection depends solely on your skills and what you want to happen in the future. If you are capable of cleaning the operating system yourself, and you do not care about other threats, most likely, you will choose to delete Robin Hood And Family Ransomware manually. If you are not skilled at malware removal, and you wish to strengthen your virtual security in the future, you will install strong and reliable anti-malware software capable of producing well-rounded protection.
Delete Robin Hood And Family Ransomware
Use Windows Explorer (tap Win+E to launch) to check these directories (to access the directory, enter its path into the bar at the top of Explorer):

%USERPROFILE%\Desktop
%USERPROFILE%\Downloads
%TEMP%

Delete the .exe file that launched the infection.
Delete all copies of the YOU ARE HACKED - READ ME.txt file.
Empty Recycle Bin to eliminate all malicious files.
Use a legitimate malware scanner to perform a full system scan.
In non-techie terms:
Robin Hood And Family Ransomware is an extremely aggressive and malicious infection. It deletes personal files, and then it pushes the victim to believe that a backup exists, and that access to it can be granted as soon as a humongous ransom is paid. That is not how things work with this malware because a backup does not exist, and paying the ransom is a complete waste of money. It is best to invest a small portion of that money into reliable anti-malware software that will automatically remove Robin Hood And Family Ransomware along with other threats that might exist. Recovering files, of course, is not possible unless a personal backup exists. If it does not, we strongly recommend that you choose a preferred method of backing up data – for example, you can use online storage clouds – and, from now on, back up all important files you do not want to lose in the future.