Do you know what RinoReader is?
RinoReader is not an application you should take at face value. It might seem like a good lightweight application, but you might want to remove it, because it is likely that it will install a dangerous Trojan called Trojan.downloader.Adcurl on your computer. You will not notice the infection if you do not have an antimalware scanner. So,if you delete this PDF reader, make sure to scan your computer using a good antimalware scanner.
To be fair, the application works rather well as a PDF reader, and, if it were not a vehicle for malware, the program might be a good alternative for all those mainstream PDF readers. RinoReader is promoted on a website called Rinoreader.com. To our knowledge, RinoReader is most popular in the United States, which makes the bulk of all world-wide downloads, but some European nations have a significant share of installations as well, namely France, the United Kingdom, Germany, and Australia. However, at the time of this article, the website did not work. Nevertheless, you can get it on your computer by installing applications such as Wajam, GamesDesktop or CheckMeUp. These are all adware applications that you should remove, because they are a magnet for shady advertisers who promote fake content.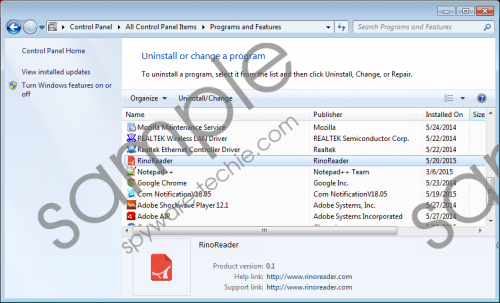 RinoReader screenshot
Scroll down for full removal instructions
At any rate, if you download and install RinoReader, you might also get an added "bonus"- a Trojan named Trojan.Downloader.Adcurl. The Trojan is considered to be a significant risk and users should remove it as soon as possible, because it can download other Trojans that might severely compromise the safety of your personal information. The Trojan might download keyloggers that record every key press. This is done to extract passwords and logins, as well as other sensitive information.
So, if you have RinoReader installed on your computer and you want to check whether it is infected with Trojan.Downloader.Adcurl, we recommend that you download SpyHunter, a powerful antimalware scanner that is fully capable of discovering all kinds of infections. Note that it can also remove the infection.
To sum up, RinoReader is a potentially unwanted application due to the fact that it can install a malicious Trojan, which will cause you all sorts of trouble. Whether you want to remove RinoReader is completely up to you, but you should definitely remove Trojan.Downloader.Adcurl if your computer has been infected with it, because it will severely compromise your computer's security.
How to remove RinoReader
Windows 8/8.1
Click the Windows logo to open the Start Screen.
Type in uninstall in the search box and go to Settings.
Click Uninstall a program and locate RinoReader.
Right-click on the program and click Uninstall.
Windows 7/Vista
Click the Windows logo to open the Start menu.
Select the Control Panel and click Uninstall a program.
Locate RinoReader, right-click on the program and click Uninstall.
Windows XP
Click the Windows logo to open the Start menu.
Select the Control Panel and click Add or remove programs.
Locate RinoReader and click Uninstall.
How to remove Trojan.Downloader.Adcurl
Go to spyware-techie.com/download-sph.
The download should initiate automatically, but, if not, click "click here to retry."
Once downloaded, run the installation Wizard.
Launch the program.
Perform a full system scan.
Click Fix Threats.
In non-techie terms:
RinoReader is a potentially unwanted program that you can easily remove without hesitating. The application works as intended. However, if you install the program, it might also install Trojan.Downloader.Adcurl, which, as the name implies, is a Trojan. Needless to say, the Trojan might cause you serious problems, so you should remove it as soon as possible. As far as RinoReader is concerned, it works, but it is unreliable, so you can delete it as well.