Do you know what Rich Media View is?
Rich Media View is an adware application. It means that with Rich Media View installed on your computer you will be a subject to multiple pop-up attacks and you will not be able to browse your favorite websites properly. The most important thing is to avoid clicking Rich Media View ads and realize that adware applications are never good news. They may not be extreme computer security threats, but it is necessary to remove Rich Media View from your system if you want to avoid any potential computer security threats.
It is true that Rich Media View is more of a nuisance than an actual computer security problem, but no adware application should be taken lightly. Rich Media View is a new clone of Media Buzz and BetterSurf adware programs and just like its predecessors it tries to make an impression that by installing Rich Media View and making use of it you will be able to improve your internet browsing experience. Needless to say, that it is not the case, because the main reason why Rich Media View wants to remain on your computer is money.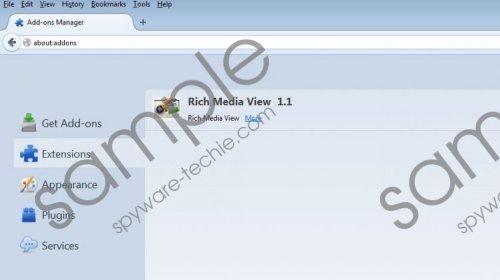 Rich Media View screenshot
Scroll down for full removal instructions
Each time you click a Rich Media View ad, you get redirected to an affiliated website that employs pay-per-click system to generate financial profit to the adware's creators. It is not an illegal practice, but the problem is that Rich Media View is vulnerable to third party exploitation. Hence, the application might display ads with corrupted links, and it could not be blamed for it, because such applications are not liable for displaying potentially malicious third party content.
What is more, Rich Media View cannot be downloaded at the official website, because rich-media-view.com is "under construction". The download link can be unearthed if you are an experienced computer user, but that is definitely not necessary, because Rich Media View is not a useful application.
After installation, Rich Media View will display a series of ads and pop-ups labeled "by Rich Media View", coupon offers by Offer4U and Better Deals. There will also be donation offers for iRobinHood and the national cancer association, fake updates for Java, and various survey offers. Needless to say that you cannot click any of these pop-ups, because all of them will eventually redirect you to potentially corrupted websites that intend to make easy money by tricking you into revealing your personal information.
Take care of this problem before it goes out of hand. Remove Rich Media View right now via Control Panel and scan your PC with a powerful computer security application, because you are bound to have other unwanted applications on board. Terminate them all at once, and invest in a reliable antispyware application to avoid similar threats in the future.
How to remove Rich Media View
Windows 8
Move your mouse cursor to the bottom right of your screen.
When Charm bar appears, click Settings and go to Control panel.
Select Uninstall a program and remove Rich Media View.
Windows Vista & Windows 7
Open Start menu and select Control Panel.
Go to Uninstall a program and remove Rich Media View.
Windows XP
Click Start menu and navigate to Control Panel.
Select Add or remove programs and uninstall Rich Media View.
You can also make use of a more thorough set of instructions below.
In non-techie terms:
Rich Media View is a potentially unwanted application that generates tons of annoying pop-up advertisements. To get rid of these pop-ups, you need to uninstall Rich Media View and all the other related applications from your PC.