Do you know what Reveton Trojan is?
Reveton Trojan is a ransomware infection that displays misleading alerts containing credentials of a law enforcement agency, which is expected to make the computer user follow instructions presented in the message. To convince the user that the content of the notification is related to the organization which is presented, the Trojan locks the system down, which means that nothing can be done on the PC. The threat has many different variants whose messages present various authoritative organizations. It does not matter in what language or country the fraudulent message is found, the removal of Reveton Trojan is a must.
The message displayed by Reveton Trojan always contains credentials of a particular authority of the country, false accusations and a request for an urgent money transfer in order to unlock the PC. The sum of money required may vary in the currency of the area; therefore, the ransom may be 50 Euros, 100 Pounds or American dollars. The money very often has to be paid through Ukash, which is why all the messages that are known to be presented by Reveton Trojan are referred to as Ukash infections. For example, such infections as FBI MoneyPak virus, GEMA Virus, Sacem virus, and United States Cyber Security virus are spread by Reveton Trojan.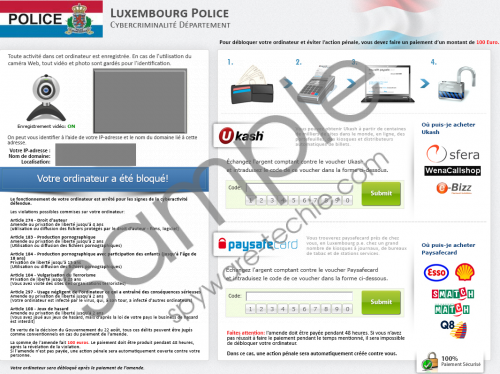 Reveton Trojan screenshot
Scroll down for full removal instructions
The computer threat in question is not related to any of the organization whose logo is used in the false notification, because the criminals' aim is to rip computer users off, remove Reveton Trojan once you find that the computer is paralyzed. To get rid of this cunning infection successfully, use SpyHunter, which is a powerful spyware removal tool. To download the software, find the instructions below:
Reboot the PC and press the F8 button while the computer is restarting.
Use arrow keys on your keyboard to select Safe Mode with Networking.
Open Internet Explorer and go to this website: http://www.spyware-techie.com/download-sph to download SpyHunter.
Install the program and scan the computer.
Windows XP users:
Repeat step 1 and step 2.
Go to the Start Menu.
Launch RUN
Type "msconfig" in the "Open:" box and press OK or Enter (on the keyboard).
Find the Startup tab.
Uncheck all startup items and press OK to confirm.
Download SpyHunter
Restart the computer.
Install the application and scan the PC to remove Reveton Trojan.
In non-techie terms:
Reveton Trojan is a cunning ransomware infection that displays misleading messages rushing the user to pay a ransom payment, because the computer is locked. Ignore the content of the warning and remove the Trojan immediately.
Aliases: Reveton.