Do you know what Revenge Ransomware is?
When you get hit by a new nightmarish threat called Revenge Ransomware, it is quite likely that you will lose most of your important personal files, including your photos, documents, and archives. This is exactly the type of malicious attack that makes it ever more important to save the most important files regularly either on a removable hard disk or to a cloud storage place. However, we must mention that some ransomware infections are actually capable of accessing your online cloud accounts and encrypt the files stored there, too. Of course, you are offered a way out of this attack: You have to pay the ransom. Although you are promised to get the unique decryption key and software for your money, we doubt that you would really get any of these. Our experience shows that even if you received these vital tools, you could make bigger virtual security issues for yourself that could risk the future of your computer. We advise you to remove Revenge Ransomware right after you realize that you have been hit.
Our researchers say that the most likely way for you to infect your computer with this ugly ransomware is to land on a malicious website rigged with Exploit Kits like RIG. Obviously, you would never knowingly visit such a website. However, you can easily land on one unknowingly and even by accident. It is enough for you to click on content while surfing the web that comes from questionable third parties or malware infections, such as adware programs and browser hijackers. For example, you can be viewing a suspicious torrent, freeware, or gaming website in an attempt to download free software. But you click on some flashy advertisement disguised as an urgent software update and you find yourself suddenly on a fake update site that drops this infection the moment it loads in your browser.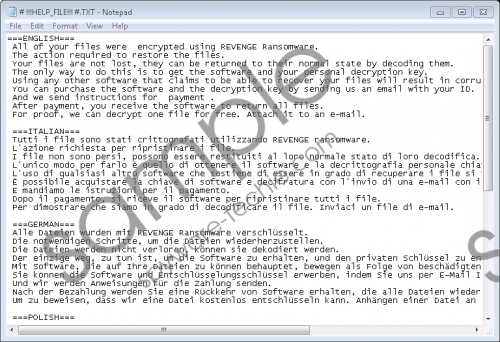 Revenge Ransomware screenshot
Scroll down for full removal instructions
The same can happen if you click on ads displayed by adware with the only difference that you can be presented with this corrupt ad on any website really. You should know that Exploit Kits can take advantage of your browsers and your drivers (Adobe Flash Player and Java) when they are not updated regularly. Therefore, the solution is quite clear: You need to update your programs and drivers. But right now, you should delete Revenge Ransomware from your computer as soon as possible.
Another possibility that emerges with regard to this vicious ransomware program is spamming campaigns. This means that you may infect your computer with this devastating threat by opening a malicious attachment you find in a spam mail. This spam could be rather convincing and appear to be all legitimate and important. You may believe that it comes from some state department, your bank, a well-know company, or a hotel. The main "attraction" of such a mail is definitely its subject matter that usually requires urgent action. This could be about a wrongly made hotel room booking, an unpaid invoice of some kind, and so on. It is quite likely that seeing this mail in your inbox or even in your spam folder would make you want to see what is inside.
So, you click to open the spam and find no information about the alleged urgent matter but, instead, you are told to check out the attached file, which is supposed to be an invoice or a form in question. This attachment can pose as an image, a video, or a document file. What you should know is that after you open this malicious attachment, you cannot remove Revenge Ransomware without the unfortunate consequence of losing your files to the encryption. This is why you should be extra careful around your mails in the first place.
Our tests show that his ransomware uses the good old AES-256 encryption algorithm to encrypt your important files. All the infected and ciphered files get a new name and extension: "[random string].REVENGE" so your files will look something like "B45009130EBCF2F274C79476F8BBA4CF.REVENGE." This malware also creates a ransom note file in all affected folders named "# !!!HELP_FILE!!! #.TXT." This ransom note contains basic information about this attack, including the fact that your files have been encrypted and your only chance to use them again is to send an e-mail to any of the given addresses (rev00@india.com, revenge00@witeme.com, or rev_reserv@india.com) and sending money to get the decryption key and software. We hope that you understand that transferring money to cyber criminals equals supporting online crime, not to mention the high probability that you will not even get anything for your money. If you want to ever use your computer again in safety, we advise you to act now and remove Revenge Ransomware.
The first step in eliminating this dangerous threat is to end the process it is running. You can accomplish this after launching your Task Manager and identifying the malicious process. After that you can easily bin the related file. You can use our instructions below as a reference if you feel up to this task. But even after removing Revenge Ransomware you cannot be sure that your system is all clean unless you run a reliable malware scanner. We advise you to protect your PC by installing a decent anti-malware program. For example, if your computer is defended by SpyHunter, you could have peace of mind and feel safe anytime you go online.
Remove Revenge Ransomware from Windows
Press Ctrl+Shift+Esc simultaneously to launch Task Manager.
Select the suspicious process and click End task.
Close the Task Manager.
Press Win+E to launch File Explorer.
Locate the malicious .exe file you saved from the spam or the malicious website, and bin it.
Empty the Recycle Bin and restart your computer.
In non-techie terms:
Revenge Ransomware is your new nightmare if you let this vicious program loose on your system. It is quite easy to get infected with such a dangerous threat even if it sounds impossible. Unfortunately, if this malware infection sets foot on your computer, it encrypts all your important files in no time and only releases them after you pay the ransom fee. However, you need to be very careful because there is little chance only that you will get the decryption tool and key since you are dealing with cyber criminals. The only real chance to be able to recover you files after such an unfortunate attack is to have a backup copy of your files on a portable drive. We advise you to act right now and remove Revenge Ransomware from your system. If you cannot seem to protect your PC manually, we suggest that you find and install a reliable anti-malware program ASAP.