Do you know what ResultsBay is?
Some users think that ResultsBay is a virus because they think it is a dangerous infection. The truth is that computer viruses are far more dangerous than that. ResultsBay is actually an adware application that functions like browser extension. When you install this program on your computer, you will soon notice a new add-on on your default browser. This add-on displays a lot of commercial pop-ups that are annoying and could promote corrupted content. That is why you must remove ResultsBay from the system to ensure complete computer security.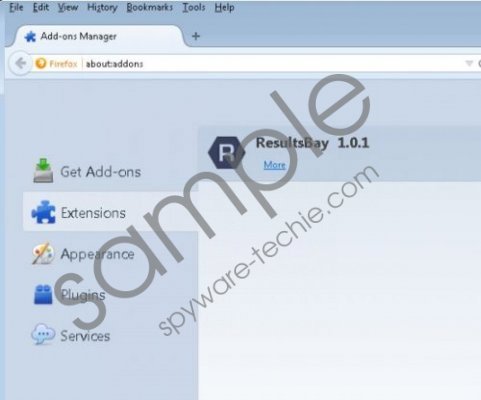 ResultsBay screenshot
Scroll down for full removal instructions
You might say that you do not know where ResultsBay comes from and that you have not installed this application onto your computer. Well, you may not be AWARE of the fact, but it is true that users install ResultsBay willingly. It happens because this application always comes bundled with other freeware programs. Our research team says that InstallQ installer is the one that usually includes ResultsBay in a freeware program setup. Thus, when you download some program from a third-party website, you have to keep in mind that it is most likely bundled with additional applications. When you launch the installation wizard, additional apps like ResultsBay get installed automatically as well.
ResultsBay is part of the SuperWeb family of adware applications. As a result, it is practically identical to Cling Clang, TowerTilt, Fortunitas and other similar programs. All of them have one thing in common – their homepages are useless. If you access ResultsBay.com, you will see that the download button is not working, and the website offers only generic information on this plugin. Consequently, that is why ResultsBay needs to employ third party installers and downloaders to travel around.
After installation, ResultsBay will add extensions to Internet Explorer and Mozilla Firefox web browsers. Google Chrome does not seem to be affected by this adware. Then the program will start collecting data on your web browsing habits. This data is necessary for ResultsBay, so that it could display custom commercial advertisements. Whenever you access shopping websites, ResultsBay will show banner ads and shopping suggestions. Some users may think that these pop-ups can help them purchase goods at an optimal price, but do not be so hasty!
ResultsBay's privacy policy states that the security of third-party content you access via ResultsBay ads is a subject to the privacy policy of third parties. In other words, it means that if you encounter something dangerous via ResultsBay ads, the program is not liable for that. Thus, you click those pop-ups at your own risk.
It is obvious that you have to remove ResultsBay from your computer to ensure that you avoid any potential system threats. Do not forget to scan your PC with a licensed antimalware tool after manual removal because your PC security should be your utmost priority.
How to remove ResultsBay
Windows 8
Slide mouse cursor to the bottom right of the screen.
Click Settings on Charm bar and go to Control Panel.
Open Uninstall a program and remove ResultsBay.
Windows Vista & Windows 7
Click Start menu and select Control panel.
Go to Uninstall a program and remove ResultsBay.
Windows XP
Open Start menu and navigate to Control Panel.
Select Add or remove programs and uninstall ResultsBay.
Remove ResultsBay from Mozilla Firefox
Press Ctrl+Shift+A and Add-ons manager tab will open.
Disable and remove ResultsBay from Extensions. Restart browser.
In non-techie terms:
ResultsBay is a potentially unwanted program that could be related to various computer security issues. You need to remove ResultsBay from your PC right now, and if you have any further questions, please do not hesitate to leave us a comment in the box below.