Do you know what Resultsalpha.net is?
Resultsalpha.net is a website that promotes ResultsAlpha. ResultsAlpha is an adware program that is said to be able to improve your overall web browsing experience. It is supposed to generate your personally non-identifiable profile based on your web browsing history and then provide you with the most relevant search results based on your likes and preferences. However, Resultsalpha.net is rightly considered an adware application which should not be trusted 100%. It would be in your best interest to remove ResultsAlpha from your computer, as it may help you avoid suspicious online marketing schemes and other unreliable practices.
One of the most problematic things about Resultsalpha.net and the application it promotes is the fact that users download and install ResultsAlpha onto their computers themselves. Granted, it is impossible to download the application at Resultsalpha.net, because the download link is dead, but it does not mean that the application does not have other ways of distribution. In fact, it is very common among the coupon applications of the same family, including Cling Clang, Xaven, Webfuii and others. All of them are downloaded and installed bundled with other freeware applications, even if the official download site leads to a blank page.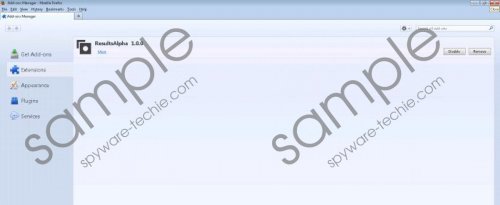 Resultsalpha.net screenshot
Scroll down for full removal instructions
Thus, if you download and install freeware applications such as video codecs, .pdf readers, file converters, shareware games and other programs on a regular basis, there is a high chance that you could have installed ResultsAlpha as well. If you are experiencing an onslaught of pop-up ads that offer you coupon deals on various online shopping malls, the chances are even higher.
Although it may seem that Resultsalpha.net and its application can really help you save money on your purchases and provide you with useful information you are advised against clicking the advertisements displayed by Resultsalpha.net. Computer security experts are concerned with the content of these pop-ups. The thing is that Resultsalpha.net cannot and does review the content so you can never know what kind of website you could get redirected to by clicking on any of them.
It poses various security risks, because adware is often used by third parties to generate financial profit by increasing traffic of particular website or by making users participate in various online marketing schemes. You should take care of your safety on the Internet and one of the best ways to do it is to get rid of all the potentially unwanted programs. Needless to say that Resultsalpha.net is one of them. After you remove it from your computer, scan the system with SpyHunter free scanner to make sure that your PC is absolutely safe.
Manual Resultsalpha.net Removal
Windows 8
Slide mouse cursor to the bottom right corner of the desktop.
Click Settings on Charm bar and go to Control Panel.
Open Uninstall a program and remove ResultsAlpha.
Windows Vista & Windows 7
Open Start menu and click Control Panel.
Select Uninstall a program and remove ResultsAlpha.
Windows XP
Click Start menu button and go to Settings.
Select Control Panel and double-click Add or remove programs.
Uninstall ResultsAlpha.
In non-techie terms:
Resultsalpha.net is a website where you should be able to download ResultsAlpha, but that is not the case. However, if you have this adware application on your PC, you should definitely terminate it, because it could be related to a variety of potential computer security issues.
Aliases: Resultsalpha Search.