Do you know what Restore@protonmail.ch Ransomware is?
It is not surprising anymore as we encounter ransomware programs on a regular basis. Restore@protonmail.ch Ransomware is yet another malicious infection we have to discuss because there are users suffering because of this program everywhere. In this description, we will tell you more about the application, and how it functions. We will also provide manual removal instructions at the bottom of this description, but if you do not want to do it on your own, please acquire a reliable antispyware program that would help you remove the infection automatically. Albeit dealing with the consequences of a ransomware infection is not that easy, you can sure find a way out.
The program is not entirely new. According to our research team, Restore@protonmail.ch Ransomware is a new version of the Fantom Ransomware infection. It means that this application is based on the same principle as the previously released malware, but it might have been customized in one way or the other. The infection was first detected this September, and it probably employs the same distribution methods as most of the ransomware applications. That is, we believe that the program spreads through spam email attachments. This happens when users download fake documents from the messages and open them without any second thought.
Once the malicious file is opened, it executes the stub.exe file in the %AppData% directory. Of course, the user is not aware of that until the infection rears its nasty head by changing the desktop's wallpaper. In fact, the program is extremely obnoxious because, just like its predecessor, Restore@protonmail.ch Ransomware locks your screen by displaying a fake Windows Update service. While it tries to convince you that your operating system is in the middle of an update, the infection encrypts your files. Aside from that, the program also creates a ransom note with all the instructions you are supposed to follow, and the note is dropped in every single folder with the encrypted files. The ransom note is titled READ_ME!.hta, and there is no way you could miss it.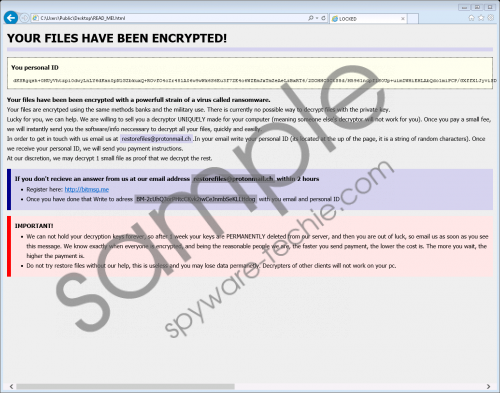 Restore@protonmail.ch Ransomware screenshot
Scroll down for full removal instructions
Could some of the files avoid this encryption? Yes, there are a few file extensions that are whitelisted by the ransomware, and the program skips such files when it ransacks through your computer: .sys, .dll, .exe, .ico, .link, .locked, .purge, .frozen, .tmp, .temp, dll, ini, manifest, .com, .prx, .bin, .am, .dlm, .ngr. However, most of them are system files, and the infection needs them to work so that you could transfer the ransom payment. As far as your personal documents are concerned, you can be sure that Restore@protonmail.ch Ransomware will encrypt most of them, and you will no longer be able to access your files.
To scramble the bytes in your files (or encrypt them), the infection employs the RSA-2048 algorithm. The program then asks the infected users to pay for the decryption key if they want their files back, but some security specialists speculate that the private key does not seem to be the malware's code. If that is really the case then it would mean that the infection cannot be decrypted, and there is no way to restore your files. Of course, even if the decryption key was there, you should still refrain from paying for it because that would be just handing the criminals exactly what they want.
There is a chance that a public decryption tool will be developed later on, so you should not lose hope. Of course, it is better to remove Restore@protonmail.ch Ransomware from the system immediately, especially if you have copies of your files stored in an external backup. If you want to delete the encrypted files and transfer the healthy ones into your PC, you have to make sure that you terminate all the malicious applications and registry entries. Otherwise, it would not be a good idea to save new files because they could be affected by the infection, too.
As mentioned, you can get rid of this infection on your own, but it is strongly recommended to employ a licensed antispyware tool. The thing is that an automated security application will terminate this and OTHER dangerous programs that might be residing on your system. On top of that, it would protect you from various infections in the future, so please do not hesitate to invest into one.
How to Remove Restore@protonmail.ch Ransomware
Press Win+R and the Run prompt will open.
Type %APPDATA% into the Open box and click OK.
Delete the stub.exe file from the directory.
Locate and delete every single READ_ME!.hta file in the affected folders.
Scan your computer with the SpyHunter free scanner.
In non-techie terms:
Restore@protonmail.ch Ransomware is a dangerous computer infection that enters your system surreptitiously. It may be hard to battle this program, but you should do your best. If manual removal seems to be too tedious for you, you can always delete the infection automatically. We are always here to help you figure things out, so do not hesitate to drop us a comment, and our team will reply as soon as possible. Do everything you can to protect your PC from harm.