Do you know what Rescroller Extension is?
If you consider Rescroller Extension to be a highly useful add-on for your Google Chrome web browser, you might not understand right way why it is classified as a potentially unwanted program (PUP). Some malware researchers also identify it as advertising-supported software (adware), and that is not unfair because, according to our research, it can be used to showcase ads. Have you decided to research this strange extension after facing the suspicious advertisements? Hopefully, you have not yet installed this add-on at all, and you can evade the security issues associated with it. But if it is installed on your browser, the suspicious ads are not the only thing you need to be worried about. If you are in a hurry to delete Rescroller Extension as soon as possible, scroll down to find a guide. If you are completely confused, and you just do not know what to do, continue reading before you move on with removal.
PrivSearch, Ltd. is the developer of the suspicious Rescroller Extension, and this company does not represent their product in the most transparent manner. Our research team managed to find that the add-on is officially offered at http://jinlun007.com/cixv/?&from=media, but the installer is actually hosted on https://chrome.google.com/webstore/detail/dmlhkniepcckhimnledfjmhkjomacddn. This Chrome web store installer is no longer active, and so installing the PUP from the official page is not possible either. Does that mean that the PUP is dead? Not necessarily. In fact, it is likely to be spread via third-party installers or using misleading online offers. Overall, regardless of how you install Rescroller, you need to be extremely cautious because this extension is not that reliable. Although it claims to stop search providers from tracking your browsing history, it does that itself, which is why it is no wonder that users choose to delete it from their browsers.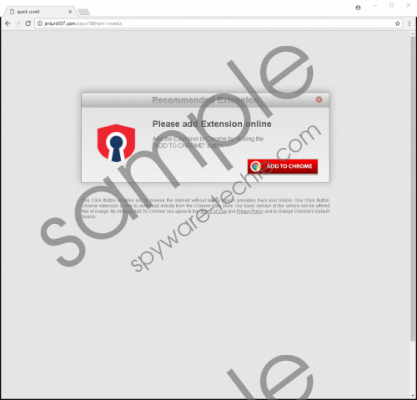 Rescroller Extension screenshot
Scroll down for full removal instructions
Have you reviewed the Privacy Policy representing the ransom note of Rescroller Extension? If you reviewed it before installing the add-on, it is unlikely that you would have gone through with the process. The Privacy Policy informs that the extension records information about its users, and some of this information might be personally identifiable. Furthermore, it is revealed that third parties – who, of course, are not disclosed – can place advertisements and even use their own tracking technologies to record data. This is why some remove Rescroller Extension as an advertising-supported program. All in all, regardless of your reasons, you want to delete this potentially unwanted program as soon as possible. Do you need to erase any other threats along with it? Install and run a trusted malware scanner to help you figure this out. Needless to say, you should not ignore any threats that are presented to you.
If malware is found on your operating system, installing anti-malware software might be very rewarding. First and foremost, all threats would be eliminated at once if you installed this software. Of course, it should be able to remove Rescroller Extension as well. Another great thing about anti-malware software is that it protects against malicious infections, which means that it can help you keep your operating system free from malware in the future. Although you have encountered a PUP in this situation, you might encounter much more serious threats if you do not place the right security software to keep you guarded. If you are not ready to install anti-malware software right now, you will need to delete Rescroller Extension manually, and you can do that using the simple instructions below.
Delete Rescroller Extension
Open Google Chrome and enter chrome://extensions/ into the address bar.
Click the recycle bin next to the unwanted extension and choose Remove.
Enter chrome://settings/clearBrowserData into the address bar.
Select the time ranges and the boxes and then click CLEAR DATA.
In non-techie terms:
Have you downloaded Rescroller Extension because you thought that this add-on would keep your searches to yourself? Well, if you want to browse the web silently, you can use the Chrome's Incognito Mode. This extension will not help you with anything, and, in fact, it is believed that it is only set to collect information and showcase third-party advertisements. Without a doubt, you want to remove Rescroller Extension ASAP, and you only need to decide how you will do it. You can follow the guide above to erase the add-on manually, but we suggest installing anti-malware software if you want to keep your system safe in the future. This is the ideal solution if you need to delete something else besides the PUP.