Do you know what Repter Ransomware is?
Your personal files are the prime target of Repter Ransomware, a file-encrypting malware that can slither into your system without your notice. This malware might be dropped by other threats, but it is most likely to exploit spam emails and bundled downloaders to trick Windows users into executing it themselves. Of course, if the system is protected, the infection should stand no chance of performing a successful attack. On the other hand, if the system is not protected, it might go under the radar, and you might realize that some kind of malware has slithered in only after discovering that your files cannot be read. Can you restore them by removing Repter Ransomware? Unfortunately, that is not how things go in this situation, but of course, you must delete this malware sooner rather than later.
According to our research team, Repter Ransomware uses Salsa20 and RSA 4098 encryption algorithms to encrypt your personal files, and that should ensure that you cannot employ free decryptors to restore them. Unfortunately, at the time of research, we could not confirm that a working decryptor existed. The attackers behind Repter Ransomware hope that you cannot do anything, and that is when "# How To Decrypt Files #.hta" comes into play. This text file is dopped to every folder that is affected and that contains files with the ".EMAIL=[repter@tuta.io]ID=[*].repter" extension appended to them. Besides this text file, the infection also drops "Cpriv.key," "Cpub.key," and "SystemID" on the Desktop. If you decide to delete the infection manually, these are the files that you will want to delete as well.
The text file dropped by Repter Ransomware informs that "the only method of recovering files is to purchase decrypt tool and unique key." And how are you supposed to do that? The message instructs to email repter@tuta.io or Repter@elude.in (backup) to learn more about the process. The message also states that those who email within 48 hours can use a 50% discount. Do not be fooled by this. The attackers are using urgency to make you act without thinking. All they want is your money, and once you transfer it, you will not be able to get it back. Unfortunately, no one knows if a decryptor will be sent in return. In fact, our research team would be surprised if that happened. Our team of experts recommends that you do not interact with cybercriminals or do anything that they want you to do. If you are okay with the possibility of losing money, please remember that you are unlikely to obtain a decryptor.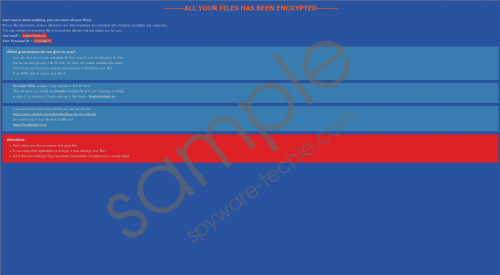 Repter Ransomware screenshot
Scroll down for full removal instructions
The guide below can be used to delete Repter Ransomware manually; however, it is only vague because we cannot know the exact location or even the name of the launcher file. If you can locate and delete it, eliminating the rest of the components should not be too difficult. What's the alternative? We believe that the best option is to install anti-malware software. It will automatically remove Repter Ransomware, and you will not need to worry about Windows security either. Should you be worried about Windows security? Absolutely, because as long as it has security backdoors and cracks, cybercriminals can exploit them to drop and execute new threats!
N.B. If you have copies of the corrupted files stored outside the computer, you can use them to replace the corrupted files after deleting the infection.
Remove Repter Ransomware
Delete recently downloaded files that you identify as malware files.
Delete all copies of the file named # How To Decrypt Files #.hta.
Go to the Desktop and Delete the files named Cpriv.key, Cpub.key, and SystemID.
Empty Recycle Bin and immediately install a malware scanner.
If a full system scan identifies leftover threats, eliminate them as soon as possible.
In non-techie terms:
Repter Ransomware encrypts personal files in a way that they cannot be read by their owners. This might help cybercriminals push victims into paying for an allegedly guaranteed decryption tool. Well, if you believe that cybercriminals can provide you with any guarantees, you might choose to pay the ransom. We do not recommend it. Instead, we recommend that you focus on deleting Repter Ransomware. Some victims might be able to do that manually, if they know where to find the launcher file. We recommend implementing anti-malware software. This software will ensure that all malware components are removed and the system is protected. Ideally, you will be able to replace the corrupted files with copies afterward.