Do you know what Clean Browser is?
Clean Browser is a mysterious browser extension because it hides the services it actually is related to. On the official web page (clean-browser.com) it is disclosed that this extension can 'safeguard your browsing experience'. However, it is not revealed that as soon as you install the application, you will be introduced to different pop-up and banner advertisements instead. Based on this, you should delete Clean Browser as an advertisement-supported program, not a regular application. As you may know already, this type of software may run with the help of adware helpers (e.g., BenchUpdater) which require removal as well. Continue reading to learn how to delete this undesirable and suspicious software from the operating system.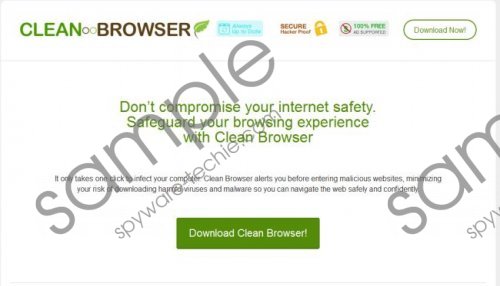 Clean Browser screenshot
Scroll down for full removal instructions
Even though Clean Browser may seem like one of a kind to most computer users, malware researchers warn that this application is almost identical to Browse Safe, Savings Wave, Savings Season, Sharp Savings, and other adware designed and distributed by Engaging Apps. Note that this company may also be listed as Exciting Apps, Innovative Apps or Smart Apps. Regardless of the name, Clean Browser is set to collect information about you, and in some cases this could involve personally identifiable information. Note that this is disclosed within the Privacy Policy at clean-browser.com/privacy.php. It is also disclosed that the extension presents third-party links, and this is not compatible with the protection of virtual security. If you do not remove Clean Browser, there is a great chance that sooner or later you will be introduced to unreliable offers. This is exactly the kind of risk you need to avoid.
To perform Clean Browser removal successfully you need to decide which removal option is best. You may believe that you can delete Clean Browser manually; however, if you do not have the experience and skills, it is unlikely that you will be able to remove adware components, adware helpers and other undesirable software successfully. Keep in mind that potentially undesirable programs may be installed together with adware without authorization, and so they should be deleted as well.
Delete Clean Browser from Windows
Delete from Windows XP:
Move to the left of the Task Bar, click the Start button and select Control Panel.
Double-click Add or Remove Programs and Remove the undesirable software.
Delete from Windows Vista or Windows 7:
Go to the Task Bar, click the Windows button and select Control Panel.
Select Uninstall a program to find the list of programs you can uninstall.
Right-click the application you want to remove from the PC and select Uninstall.
Delete from Windows 8:
Access the Metro UI menu, right-click on the screen and choose All apps.
In the Apps menu open the Control Panel and click Uninstall a program.
Right-click the application you want to remove and then select Uninstall.
In non-techie terms:
If you have found Clean Browser running on the browsers, it is most likely that suspicious online offers are flooding the browsers as well. To get rid of the disturbing, possibly unreliable adware avalanches, you need to remove Clean Browser from the operating system. Automatic malware removal software (installation guides below) is best when it comes to the removal of adware; however, experienced computer users may be able to delete it manually as well.