Do you know what Browserwarden Ads is?
Browserwarden Ads is yet another application that promises to enhance your web browsing experience. The slogans in the official website of Browserwarden Ads tell users that they will be protected from potentially malicious websites; if you encounter a website like that, you should be presented with a warning message. Truth to be told, Browserwarden Ads is nothing more than just another invasive and annoying adware application that must be removed from your system. It is likely that adware applications expose your system to other infections. That should be avoided at any cost. Remove Browserwarden Ads using the removal guide that was put up by malware experts at Spyware-Techie.com.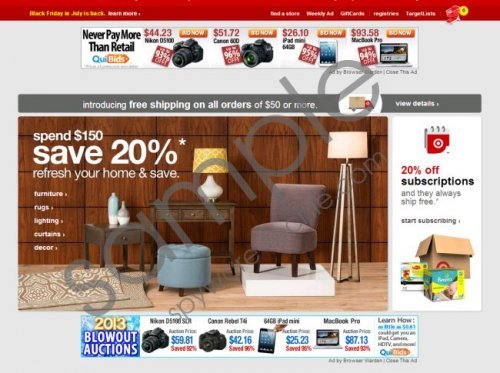 Browserwarden Ads screenshot
Scroll down for full removal instructions
It was revealed that Browserwarden Ads is another product of the Smart Apps group that is known as a developer of such dubious applications like Browserkeeper, SlamDunk Savings, Coupon Champ and quite a few others. Due to this fact, our researchers are well acquainted with applications like Browserwarden Ads.
Once it enters your operating system it installs browser extensions to all popular browsers on the market (Google Chrome, Internet Explorer, and Mozilla Firefox). These extensions can be removed easily through browsers settings menu, but that will not ensure that your system is clean. You will need to remove Browserwarden Ads entirely if you wish to avoid various third-party commercial adverts that it displays while you surf the web.
Furthermore, it was noticed that Browserwarden Ads comes bundled with a potentially unwanted application known as BenchUpdater. It is an application that updates Browserwarden Ads constantly. Also, it could be used as a tool by Browserwarden Ads to restore itself after an improper removal.
In addition to all that, Browserwarden Ads makes changes to the Windows host file. It enters an additional line with a certain IP address. Hosts file can be used in several ways. One of them is that it can be used as a tool to stop various annoying activities from various dubious websites. Another way is that it can be used to promote certain websites, and that is how Browserwarden Ads uses it. You will have to restore the hosts file in order to stop ads and various annoying pop-ups within your browser.
It is crucial that you remove Browserwarden Ads from your system properly as it could restore itself. Also, it is important to realize that adware applications could turn out to be dangerous as they often are used as a backdoor by various infections. Furthermore, system that is left untreated is at risk on a daily basis. Follow the provided removal guide carefully, and you should not encounter any problems. To maintain a secure and clean system, you are advised to implement a professional antimalware software.
How to remove Browserwarden Ads from your PC
Remove from Windows 8
Move the mouse cursor to the bottom right corner of the desktop.
Select Settings in the Charm bar.
Now click Control Panel.
Select Uninstall a program.
Then locate and remove Browserwarden.
Remove from Windows 7 and Windows Vista
Click the Windows button.
Then select Control Panel.
Now click Uninstall a program.
Now select and remove Browserwarden.
Remove from Windows XP
Tap the Windows key on your keyboard and select Control Panel.
Now select Add or Remove Program.
Remove Browserwarden from your system.
How to restore the Windows hosts file
Click the Windows button and select Computer.
Now select Local Disk (C:).
Select the Windows folder.
The select System32 folder.
Now select drivers folder and then etc folder.
Open the hosts file with Notepad.
Now remove everything below # 127.0.0.1 localhost and # ::1 localhost.
Save the file and close it.
In non-techie terms:
Applications like Browserwarden Ads are just as serious as any other internet-based infection. In order to maintain a secure system Browserwarden Ads and any other adware application must be removed immediately. If you wish to remove it automatically follow the instructions provided below.