Do you know what Remarkable ads are?
Remarkable ads are different pop-up advertisements displayed by a browser plug-in called Remarkable. The major function of this application is to enable you to highlight important texts, save links to those texts, and share that selected content on Facebook, Google+, and Twitter. The application is available at re-markable.net and may also be bundled with other programs; hence you should always pay close attention to the installation process. You do not want to make a negative impact on the operating system and risk your personal information. Read the terms of use or privacy policy that you are provided with and decline the installation of unknown programs.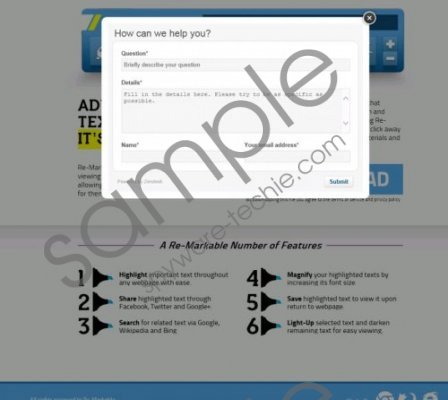 Remarkable Ads screenshot
Scroll down for full removal instructions
Remarkable is identical to Remarkit, BetterMark, and BestMark, all of which can display various advertisements, including pop-ups and web banners. We recommend that you ignore Remarkable ads because they are owned by third parties, which are not endorsed by Remarkable. Remarkable may use various third party servers, including Superfish and DealPly. Every website to which you are taken by Remarkable ads is likely to have its privacy policy and terms of use. If you do not know the website, review its privacy terms and ratings before purchasing or ordering something. You interact with Remarkable ad at your own risk, and, by installing the application you grand your permission to receive third party advertisements.
Some of the advertisements displayed by Remarkable may have nothing in common with your search terms but it does not mean that you are not being monitored. Remarkable uses browser cookies and other tracking techniques to record your search terms, clicks, browsing history, browser language, IP address, and some other non-personally identifiable information. Remarkable collects information in order to enhance the quality of the service, which may imply many things. The information may be used to provide you with targeted advertisements and offers and even shared with other parties.
In case you have already tried the application and want to get rid of those "ads by Remarkable" pop-ups, implement SpyHunter. Our team recommends using this spyware and malware prevent tool because it can remove the adware program and shield the system from numerous computer threats, including browser hijackers, Trojan horses, rogue anti-spyware programs, and many other threats. It is possible to uninstall Remarkable, which you can do with the help of our removal guide, but we strongly recommend implementing a reputable security tool, especially if your computer is not protected against malware and spyware.
How to remove Remarkable ads
Windows Vista and Windows 7
Click Start.
Select Control Panel.
Click Uninstall a program.
Remove Remarkable.
Windows XP
Click Start.
Select Control Panel.
Click Add or Remove Programs.
Remove Remarkable.
Windows 8
Move the mouse the lower-left corner of the screen.
Right-click.
Select Control Panel.
Click Uninstall a program.
Remove the adware program.
In non-techie terms:
After removing Remarkable from the computer, install a reputable scanner which is capable of identifying Remarkable. We recommend using the scanner available below. The application can readily examine the system so that you can take appropriate measures.