Do you know what Relec Ransomware is?
Relec Ransomware may not yet be the worst nightmare for you when you may lose all your personal files but this new open-source program certainly has the potential to be the next Hidden Tear Ransomware. The latter has already the base for at least a dozen dangerous ransomware variants, so it is really just the question of time when cyber crooks see the potential in this new potentially dangerous threat. This current version does not actually harm your files and does not even seem to change your desktop background. Nevertheless, all the functions are there, coded in C++. If you do not want to lose your precious files in the future, it is important that you start making regular backups. You can use cloud storage or physical storage like a removable hard disk, for example. There are a number of other things you need to be aware of, too, so that you can be more efficient at protecting your PC. We advise you to remove Relec Ransomware right away. But let us tell you more about this threat before you jump to the end.
As of yet this new ransomware program can be downloaded from and official page, github.com/erhanbaris/Relec-Ransomware. But once it will be used by cyber crooks, the distribution method will be switched to the usual ones. First of all, it is possible that you infect your system via spam e-mails. This spam contains an attachment that may pose as an image, a document, or a ZIP archive. Once you click to view this attached file, the unstoppable encryption process starts up. This is why it is not possible to delete Relec Ransomware or any other ransomware infection in due time to stop the encryption. Of course, this time there is no encryption done; therefore, you can easily remove Relec Ransomware and your files will be safe and sound. But you need to be prepared for fully working samples as well. This is why we suggest that you become more cautious around your mails and only open those that come from people or companies you actually know personally. If you have doubt about an e-mail, you should send an inquiry to the sender to find out whether it is a real person and the mail and its attachment were meant for you.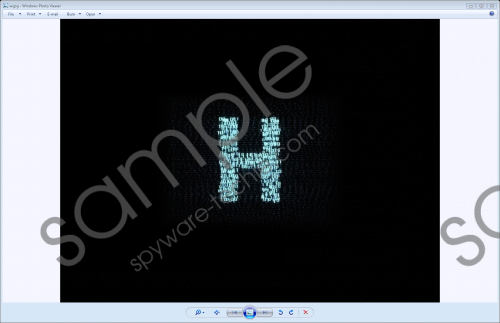 Relec Ransomware screenshot
Scroll down for full removal instructions
It is also possible that you download this ransomware infection while downloading free software from suspicious torrent or freeware pages. You may want to download a crack or a keygenerator, and this is how you may end up with this infection on board. Using such questionable pages never end well because these mostly promote malicious bundles that could be packed with all kinds of potentially unwanted programs as well as malicious threats. Yet another way for you infect your machine is to land on malicious pages that are created with Exploit Kits. These kits can exploit outdated software versions. Thus, if your browsers or drivers are not up-to-date and you load such a page, you can easily drop such an infection without even realizing it. If you keep your programs updated, you may be able to save yourself from having to delete Relec Ransomware or any other dangerous threat for that matter.
We have no information yet what type of encryption algorithm this new ransomware may use but it is quite likely to be AES or combined with an RSA algorithm. Although the encryption is coded, it is not used since this open-source program is not for malicious purposes obviously. However, cyber criminals may use it for their own good so it is likely to be working in the near future. This infection also drops an image file that is supposed to be the new desktop background but it may not also change in this version. Our researchers have found that this version does not create a Point of Execution so this ransomware does not seem to start up automatically with Windows; however, this can change, too, in the future. If somehow you have installed this threat, we do not advise you to keep it on board even if it seems innocent to you. In fact, we suggest that you remove Relec Ransomware right now.
In order to be able to eliminate this threat from your PC, first you need to exit the ransom note window that comes up on your screen after the supposed encryption. You are quite lucky this time because you can easily exit this window by clicking Cancel or the X button. This may also change in the future since such an infection may well lock your screen and cause further complications for you. We have prepared a guide for you below so that you know how to remove Relec Ransomware manually. If you want to defend your PC against all possible future threats, we suggest that you install a reliable anti-malware program, such as SpyHunter.
Remove Relec Ransomware from Windows
Exit the ransom note window (click "X" or "Cancel").
Tap Win+E to open File Explorer.
Find and delete the malicious file you have saved lately.
Bin the background image from your desktop.
Empty your Recycle Bin and reboot your system.
In non-techie terms:
Relec Ransomware is not yet a fully working malicious program as it was designed for educational purposes just like Hidden Tear Ransomware. Although this open-source program does have the capability to encrypt files, it does not do so yet. Practically, everything is there to create a real beast out of it, which will definitely be tempting for cyber criminals and beginners alike. We cannot know now when the first spin-off may surface but we may not wait for too long for that to happen. Therefore, you need to be prepared when it actually may hit you. This means that you should protect yourself in advance by making regular backups or even installing a professional anti-malware program for automatic threat detection and elimination. We recommend that you remove Relec Ransomware immediately, even if your files may not have been encrypted this time.