Do you know what RelaySoft is?
RelaySoft is an adware helper. It is a piece of software that works as a component of an adware application. RelaySoft allows various adware programs to function properly, and it can also be used to reinstall the removed programs on your computer. Thus, it is an extremely annoying application that should be removed from your system as soon as possible. Take note that deleting RelaySoft alone would not solve the problem because you need to terminate the adware application which makes use of this adware helper as well.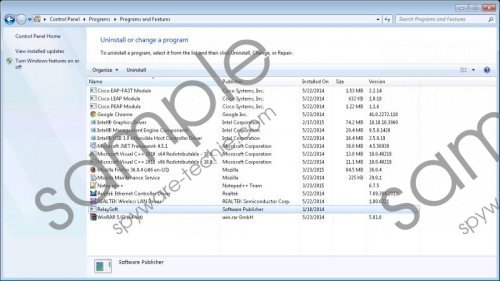 RelaySoft screenshot
Scroll down for full removal instructions
Depending on what the adware developers want RelaySoft to do; this piece of software could be used to reinstall any removed application from the Multiplug family that gets distributed via the InstallRex installers. The programs include (but are not limited to) Smart Ones, OptiShopper, SaferWeb, and many other applications. Some of those adware applications that are based on the JustPlugIt engine have official websites that make it look like the programs are reliable browser extensions, but the point is that the direct download links are never available, and users cannot download these programs willingly.
This also means that RelaySoft and all the programs it comes with are distributed in software bundles. It is to be expected, considering that RelaySoft is used to assist programs that are distributed with the InstallRex installers. According to our tests, RelaySoft usually comes with a variety of uninstaller names, including GrubTartan, DemiUpgrader, StatEngine, FalconCentre, and others. It shows that adware applications are more protected that might seem at first glance. In fact, this adware helper might even restore the adware information in system settings, registry keys, and program files. Thus, unless you remove RelaySoft along with all of its files and entries, the main adware program may be restored behind your back.
It is definitely possible to remove adware and all its components manually because, most of the time, such applications have entries in the list of installed programs. Nevertheless, there might be some files and registry entries that do not disappear automatically once you uninstall the program via Control Panel. The same might apply to the program RelaySoft comes with. Hence, once you remove RelaySoft manually, scan your computer with the SpyHunter free scanner to look for other unwanted applications and remaining files that could lead to adware restoration.
Should you have any further questions on your computer's security, you can always leave us a comment below. Don't forget to invest in a legitimate antispyware application because your system's security is your utmost priority.
How to Uninstall RelaySoft
Windows 8 & Windows 8.1
Move the mouse cursor to the bottom right of your screen.
Click Settings on the Charm bar and go to Control Panel.
Open Uninstall a program and remove RelaySoft.
Windows Vista & Windows 7
Click the Start menu button and go to Control Panel.
Select Uninstall a program and remove RelaySoft.
Windows XP
Press the Windows key and go to Control Panel.
Access Add or remove programs and uninstall RelaySoft.
In non-techie terms:
RelaySoft is an adware component called adware helper. Adware programs use this application to perform various functions. Sometimes RelaySoft could also be used to restore the adware programs it comes with. You have to remove RelaySoft from your computer to ensure that potential security threats do not get restored.