Do you know what RegGenie is?
RegGenie is not the application that you should install on the system because it is known to be a potentially unwanted program. Of course, users usually do not know that and expect that this application will fix all the PC's issues and boost the speed of the computer. We cannot say that this program does not do anything; however, we are sure that it will not fix any issues for users unless they buy the license. If you have also noticed that the free version of this program is quite useless and you do not want to invest in it, you should remove RegGenie without further consideration. We will provide more information on the removal of this software further in the article, so continue reading it carefully.
RegGenie will immediately scan the system in order to find errors. It seems that it mainly checks how many empty registry keys, invalid class entries, and other errors there are on the system. If a user clicks on the Fix Errors Now button after the scan, he/she notices "Errors Fixed: 0". In addition, it is said that users need to register the program in order to fix the remaining errors. It seems that this application does not fix any errors even though it should fix problems "in two areas" for free. The license of RegGenie for one PC costs $35, and it is up to you whether to pay money for it or not; however, in our opinion, there are hundreds of more trustworthy PC optimizers, and it is better to acquire one of them instead. In addition, nobody knows whether RegGenie shows really trustworthy scan results.
Specialists say that you should definitely not keep RegGenie installed if you do not want to hand in information about yourself to its creator. You should especially not keep it if you are not going to use it. Researchers have managed to find out that this software is primarily interested in the computer's OS and types of web browsers, IP address, previously visited websites, clickstream data, and even the resolution of the computer monitor. If you do not wish to give this information to anyone, you will have to remove RegGenie from your system. Do not forget to take care of your system's safety too in order not to encounter other potentially unwanted programs and much more serious threats. It is not very easy to protect the system from harm, so we do not expect that you will be able to do that yourself.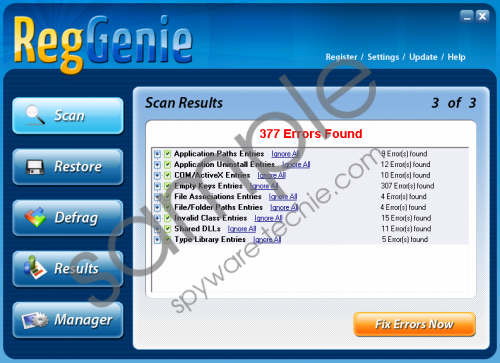 RegGenie screenshot
Scroll down for full removal instructions
There are hundreds of PC optimization tools on the web; however, there is no doubt that you have RegGenie installed if you see its name in the top-left corner and you can locate its folder in %APPDATA% and %PROGRAMFILES% (%PROGRAMFILES(x86)%). Many users who have this program installed think that they can simply close it by clicking the X button; however, it is not exactly true. It has been found that this application creates the Task in the Windows Task Scheduler, and it can start at particular times without a user's permission. There is only one way to stop it – you need to delete this potentially unwanted program from the system.
Even though RegGenie is available for download on its official website reggenie.com, it is very likely that it is spread in software bundles too. If you cannot remember downloading this PUP yourself, it is likely that it has sneaked onto the computer together with other applications. You should always read all the information provided for you in setup wizards, download software from trustworthy software only, and surf the web carefully. These pieces of advice will help you to keep the system clean.
Luckily, RegGenie is not a very dangerous program, so it is possible to remove it from the system quite easily. If you do not know anything about the removal of PUPs, follow our step by step instructions. You can also scan the system with an automatic malware removal. It will eliminate all the infections for you within seconds.
Delete RegGenie
Windows XP
Click the Start button.
Select Control Panel and go to Add or Remove Programs.
Select the program and click Remove.
Windows 7 and Vista
Open the Start menu and click Control Panel.
Click Uninstall a program and right-click on RegGenie.
Click Uninstall.
Windows 8/8.1/10
Launch RUN.
Enter Control Panel in the box and click OK.
Click Uninstall a program.
Select the unreliable program.
Click Uninstall.
In non-techie terms:
If you have removed RegGenie in a manual way, other infections might still be hiding on your system. You need to eliminate them all as soon as possible too. In order to find out whether these unreliable programs are really installed, scan the system with a diagnostic scanner you can download from our website. The diagnostic scanner will also find all the leftovers of RegGenie, and then you will be able to eliminate them yourself or upgrade the tool to do this job for you.