Do you know what Recipes Extension is?
Recipes Extension can appear in your browser after you install free software that you have downloaded from a suspicious file-sharing website. Our researchers have not found any official channel for this tool where it is promoted. In fact, we have categorized it as a potentially unwanted program (PUP) because it can show up on your system without your knowing and it may also put your system security at risk indirectly, through the search engine it installs. This PUP only seems to affect your Google Chrome browser for the time being. We advise you to remove Recipes Extension if you do not want to download malicious programs in the background or end up on fake websites being scammed. If you want to learn more about this PUP and how it manages to crawl onto your system, please continue reading our detailed report.
Strangely enough, if you find this browser extension in your extension manager in your Google Chrome browser, you can see that it does have an authentic-looking ID, "adnggmlkbkdbplckmbjjncnjnpeaclgd." If you do not see this ID, you need to tick the "Developer mode" checkbox at the top. A quick web search can help you see what you are up against whenever you find a suspicious extension in your list. Most of the time you will find articles and references to pages that explain why you should remove that particular extension in question. However, in this case, there is actually no result at all. If you try to check the Chrome web store, you may find hundreds of recipe-related tools but not this one. In other words, it is quite suspicious that you cannot seem to find any reference to this extension on the web. This can mean only one thing apart from the fact that you are better off deleting Recipes Extension: This PUP has to spread in questionable ways.
Our researchers have found that this useless extension can be distributed by free software bundles. That is really bad news for you because it would mean that if you can find this PUP in your browser, there could be several more dangerous threats on your system as well. A bundle can carry all kinds of threats apart from the usual PUPs, including adware programs, browser hijackers, Trojans, keyloggers, backdoors, and fake alerts. Most users may still not know how easy it is to infect their system with such a lot in one single go just by downloading free or cracked files from suspicious P2P websites (torrent and freeware) or by clicking on random unsafe third-party ads on questionable websites loaded with unreliable content. Of course, you can also easily infect your computer with additional threat when it has already been infected with adware, for example. This is why it is so important to be certain that your PC is clean at all times; otherwise, you could never be really safe even if you think so. We suggest that you scan your system with a reliable free online scanner after you have deleted Recipes Extension from your browser.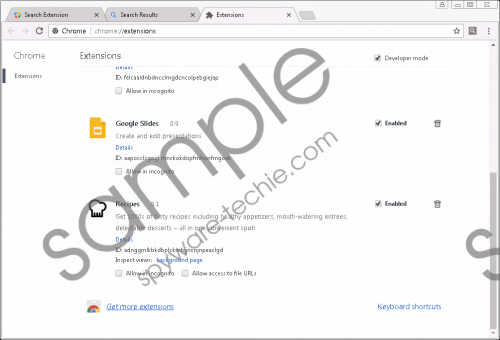 Recipes Extension screenshot
Scroll down for full removal instructions
The real issue with this questionable browser extension is obviously not its cooking-related promotions but rather, the potentially risky search website (findgofind.com) it may install as your home page, new tab page, and default search provider. At first sight, this search engine looks totally like Google, which is clearly the intention of its creators, i.e., to mislead unsuspecting computer users. If you believe that this search page is indeed Google, you would not try to figure out what it really is and would possibly leave it in your browser without doubting its reliability. However, what if we told you that this search engine is not necessarily to be trusted when it comes to displaying search results. In fact, it is possible that this PUP may modify these results to promote affiliates through third-party ads and links. Unfortunately, if you click on any unreliable content, you could infect your computer with further threats or end up on a malicious websites in the center of an online scam losing your money or personal information. We believe that you should remove Recipes Extension from your PC is you want to feel secure.
Finally, we are here with the long-awaited solution. Fortunately, you can easily eliminate this PUP if you just remove the undesirable extension itself via the extension manager in your Google Chrome browser. If you have never done this before, you can use our guide below this article. As you can see now, it is very easy to infect your computer with such threats. If you want to defend your PC more efficiently, we advise you to start employing a professional anti-malware program, such as SpyHunter, or any other security software you can fully trust.
Remove Recipes Extension from your browser
Google Chrome
Tap Alt+F to open the menu.
Select More tools and go to Extensions.
Locate the extension and click on the Trash can icon.
In the pop-up, press Remove.
In non-techie terms:
Recipes Extension is a Google Chrome extension that installs a known browser hijacker (findgofind.com) in your browser and thus pose a threat to your virtual security. This search page resembles Google and that is why inexperienced computer users may not even realize the change. However, you should not use or keep this potentially unwanted application in your browser because you could be introduced to unsafe web content through manipulated search results. In fact, the presence of this extension may also indicate that your PC is infected with several malware programs. All in all, we recommend that you remove Recipes Extension from your browser and all other related and unrelated threats as well. It may be time for you to protect your system with a professional anti-malware program for peace of mind.