Do you know what RealDeal is?
RealDeal is just one more adware program that spreads around the Internet. Often adware applications mighty seem useful as they promise you to present you with best prices while shopping online; thus, helping you save money. In reality, all these applications do is they interrupt you while you browse the web. Furthermore, RealDeal or any other application in this case should not be trusted as they can be linked with other internet-based infections. Removal is the only way to go regarding RealDeal. Our team of malware researchers has put up a comprehensive removal guide for your benefit. Also, we provide further information about the infection and virtual security tips.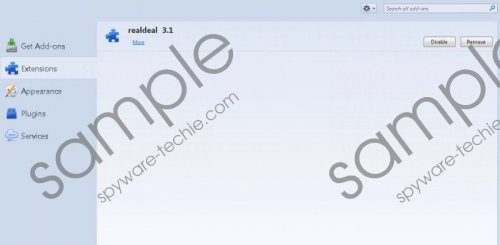 RealDeal screenshot
Scroll down for full removal instructions
A lot of users acquire RealDeal via bundled software. We noticed that most often this adware application is implemented within InstallRex installers. Unfortunately, not all users are able to identify a potentially detrimental installer. Therefore, our team advises you to install a trustworthy antimalware tool because it can detect and remove any dubious installer instantly. Furthermore, these InstalRex installers are mostly distributed at questionable third-party hosting websites. These dubious websites can also be detected by the antimalware tool, and once it is detected a warning message will be presented to you.
Like a lot of adware applications, RealDeal installs extensions to browsers like Mozilla Firefox, Internet Explorer, and Google Chrome. What is worse is that you will have to remove extensions from each and every one of them in order to remove RealDeal entirely. Once the extensions are installed you will be presented with numerous commercial adverts and annoying pop-ups while you surf the web whether you like it or not. These ads will be presented randomly at random websites.
While testing RealDeal at our lab, we discovered that this adware application is of the same family as ReGUlarDeaLS, save onn, cool sale coupn, tictacoupons, etc. This family is well known to our team. All the applications that belong to this list are likely to expose you to malicious third-party websites because some adverts contain redirect links. You could land on a website that runs an arbitrary code execution exploit meaning that only by entering the website it is probable that your PC will be infected by some other internet-based infection.
Removal of RealDeal is a frustrating task to say the least. After you delete RealDeal via Control Panel, you will have to manually remove each extension form each browser (if you are using multiple browsers). Furthermore, you will need to remove any leftover folders, files, and registry entries. It could be a tricky task because not all users are capable of editing the Windows Registry system. Even if you decide to tweak and remove registry entries associated with RealDeal you should keep in mind that it is a task that has to be carried out with an atomic clock precision because even on mistake could be the cause of total system failure. If you feel that editing Windows Registry is a risk that you are not willing to take our team firmly advises you to install a reliable antimalware system and use it for complete removal.
How to remove RealDeal from your PC
Remove from Windows 7 and Windows Vista
Click the Windows button and select Control Panel.
Then select Uninstall a program.
Now locate RealDeal and remove it.
Remove from Windows 8
Move the mouse cursor to the bottom right corner of your screen.
In the Charm bar select Settings.
Now select Uninstall a program.
Then find and remove RealDeal.
Remove from Windows XP
Tap the Windows key.
Select Control Panel.
Click Add or Remove Programs.
Remove RealDeal from the program list.
How delete RealDeal browser extensions
Delete from Mozilla Firefox
Tap Alt+T on your keyboard simultaneously.
Now select Add-ons.
The click Extensions.
Delete the RealDeal extension.
Delete from Google Chrome
Tap Alt+F on your keyboard simultaneously.
Then select Settings.
Now select Extensions.
Click the trash can icon to delete the RealDeal extension.
Delete from Internet Explorer
Tap Alt+T on your keyboard simultaneously.
Select Manage Add-ons.
Remove the RealDeal extension from Toolbars and Extensions section.
In non-techie terms:
It is important to realize that a so-called simple adware application could be potentially dangerous to your operating system. It is so because applications like RealDeal are often used as a backdoor that other internet-based infections use to enter you PC. That is why you must remove RealDeal. If you wish to do so with the help of a professional antimalware tool, please follow the instructions below.